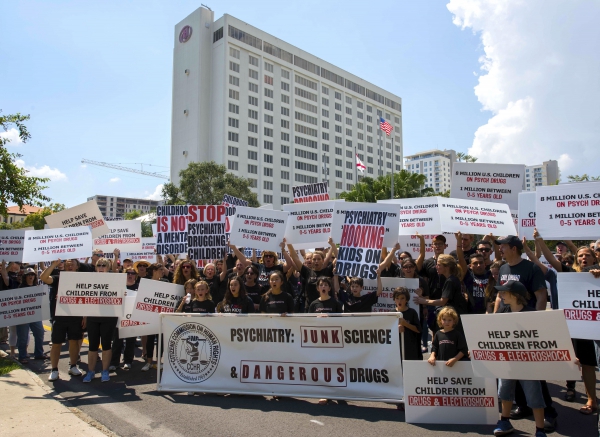 - September 27, 2016 /PressCable/ —
The Florida chapter of the Citizens Commission on Human Rights—a non-profit mental health watchdog that has, for 46 years, worked to protect patients' rights—demonstrated in protest of the over-drugging of children at the Florida Psychiatric Society annual meeting in response to the psychiatric drugging of 8 million children in the United States.
On Saturday the 24th of September, two hundred members of the Citizens Commission on Human Rights (CCHR) of Florida held a rally and demonstration in the vicinity of the Hilton St. Petersburg Bayfront hotel where the Florida Psychiatric Society was holding its annual meeting. The purpose of the rally and demonstration was to bring public attention to the epidemic destroying the fabric of the society – the psychiatric drugging of children.
Currently 8 million U.S. children are being prescribed psychiatric drugs, with more than 1 million between the ages of zero to five. [1] Normal childhood behaviors are being repackaged and labeled as "mental disorders." The result is that millions of children are being drugged for behaviors reclassified by psychiatry as "disease."
This drugging of children goes directly against the best practice guidelines published by the American Academy of Pediatrics and in a report by the Center for Disease Control, in a national sample of children ages 4-17 years collected a few short years ago, more children were not receiving treatment as described in these guidelines but instead were being given psychiatric drugs as a first course of treatment. [2]
With the meeting exhibitor list of the A Florida Psychiatric Society's event filled with companies that produce psychiatric drugs such as, Alkermes, Janssen Pharmaceutical Company and Sunovion Pharmaceuticals, Inc.,[3] CCHR descended on the psychiatrists attending the Florida Psychiatric Society annual meeting with signs reading "PSYCHIATRY: JUNK SCIENCE & DANGEROUS DRUGS" and "PSYCHIATRY LABELING CHILDREN FOR PROFIT" taking every opportunity to let people know that this meeting was simply a way to connect up the psychiatrists who prescribe drugs with the companies that sell them.
"Dangerous psychiatric drugs are being given to infants and toddlers despite the known debilitating side effects of deaths, homicides and suicides that are reported in older children and adults taking these medications,"[4]said Diane Stein, President CCHR Florida. "Why is this being done despite the known risks? Because a psychiatrist prescribing drugs can make up to four times as much as one who doesn't and drugs prescribed for ADHD alone make billions every year. It is all about the money."[5]
CCHR protestors also distributed hundreds of pamphlets informing passersby in St. Petersburg about the issue of the dangerous drugging of children with psychotropic drugs. Passersby in turn honked their horns and responded in agreement to the group and their signs. For more information on CCHR and the over drugging of children please visit http://www.cchrflorida.org/
Initially established by the Church of Scientology and renowned psychiatrist Dr. Thomas Szasz in 1969, CCHR's mission is to eradicate abuses committed under the guise of mental health and enact patient and consumer protections.
It was L. Ron Hubbard, the founder of Scientology, who brought the terror of psychiatric imprisonment to the notice of the world. In March 1969, he said, "Thousands and thousands are seized without process of law, every week, over the 'free world' tortured, castrated, killed. All in the name of 'mental health.'"
After discovering that 55 percent of foster children in Florida had been prescribed powerful mind-altering psychotropic drugs, CCHR documented the abuse to the health department, which initiated changes that led to a 75 percent reduction in prescriptions for children under six.
SOURCES:
[1] cchrint.org/psychiatric-drugs/children-on-psychiatric-drugs/
[2] cdc.gov/ncbddd/adhd/data.html
[3] floridapsych.org/page/ExhibitorInfoF2016
[4] cchrflorida.org/infants-being-given-psychiatric-drugs-on-the-rise/
[5] apa.org/monitor/2012/06/prescribing.aspx
Release ID: 134539