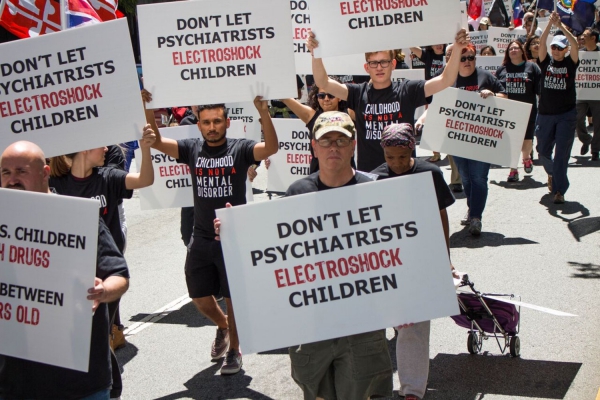 - October 18, 2017 /PressCable/ —
The Citizens Commission on Human Rights (CCHR) of Florida, a non-profit mental health watchdog that exposes human rights violations and is dedicated to the protection of children, is asking lawmakers to ban the use of the electroshock (ECT) device on children in Florida.
Following on the heels of two Pennsylvania state representatives introducing a bill in September of this year to prohibit the use of electroconvulsive therapy on children in their state, CCHR is urging Florida lawmakers to introduce a similar bill. Pennsylvania House Bill 1809, introduced by Representatives Tom Murt and Stephen Kinsey, would ban the use of ECT for people age 16 and younger.
"While ECT remains a controversial treatment for adults, it's deplorable when done on children who have no say on whether to agree to this brutal treatment," Murt said in a press release. "Yet, kids are still being shocked today. This treatment can cause brain damage. To me, it's a form of child abuse."
"The use of electroshock therapy on children is outright cruel and unacceptable," Kinsey said. "The side effects of ECT can be debilitating even for adults. Children should not be forced to undergo a treatment that can have a lasting impact on their physical and mental well-being."
"Children must not be subjected to this barbaric procedure," Murt said. [1]
According to the World Health Organization's Resource Book on Mental Health, Human Rights and Legislation, "There are no indications for the use of ECT on minors, and hence this should be prohibited through legislation". However, Medicaid records show that children aged five and younger are being subjected to electroshock in the U.S.
Several states have already banned the use of ECT on children ages 0-12 and 0-16 and this year the NAACP unanimously passed a Resolution calling for a ban of electroshock treatment on children, youths and young adults up to the age of 21 but the brutal use of ECT is still allowed on children across the rest of the United States. [2]
"We are asking Florida's lawmakers to introduce and pass legislation this year that will ban the use of ECT on children in this state," said Diane Stein, President CCHR Florida. "ECT is an unnecessary treatment, especially to the developing brain of young children."
CCHR is asking concerned citizens to sign a petition calling for a ban on the use of ECT – Petition to Ban ECT. For more information on electroconvulsive therapy or to report harmful effects from the administration of ECT please fill out this form or call 800-782-2878.
About CCHR: Initially established by the Church of Scientology and renowned psychiatrist Dr. Thomas Szasz in 1969, CCHR's mission is to eradicate abuses committed under the guise of mental health and enact patient and consumer protections. It was L. Ron Hubbard, the founder of Scientology, who brought the terror of psychiatric imprisonment to the notice of the world. In March 1969, he said, "Thousands and thousands are seized without process of law, every week, over the 'free world' tortured, castrated, killed. All in the name of 'mental health.'" For more information visit, www.cchrflorida.org
[1] State Reps. Tom Murt and Stephen Kinsey introduce bill to ban electroshock therapy on PA children – fox43.com/2017/09/27/state-reps-tom-murt-and-stephen-kinsey-introduce-bill-to-ban-electroshock-therapy-on-pa-children/ [Quotes taken from an article published by FOX 43]
[2] National NAACP Resolution Calling for Banning Electroshock on Children – cchrint.org/2017/08/16/human-rights-watchdog-supports-naacp-resolutions/
Release ID: 252060