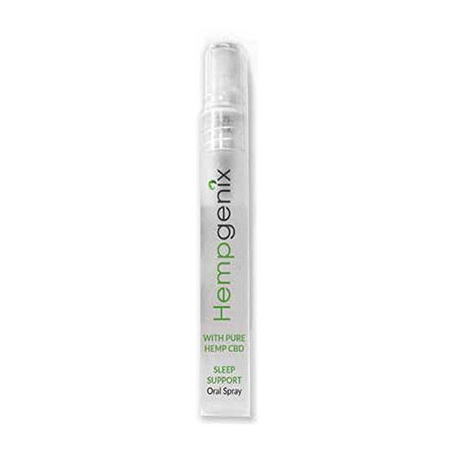 - November 16, 2016 /PressCable/ —
This product also contains Melatonin and Valerian Root. Valerian Root, in European Medicines Agency, has been approved the claim that it can been used as a traditional herbal medicinal product to relieve mild symptoms. Melatonin has been used as a dietary supplement in the USA for years. Melatonin is involved in the entertainment (synchronization) of the circadian rhythms of physiological functions including sleep timing, blood pressure regulation, seasonal reproduction, and many others. Both have been deemed as safe and effective.
KEY BENEFITS WORKS QUICKLY: Nutrients are absorbed orally almost instantly.
PROMOTES: Promotes good sleep habits and helps fight insomnia.
PROVIDES: healthy ingredients such as CBD, Melatonin, and Valerian Root.
Hemp Genix believes Sleep Support Oral Spray with CBD will be a market leader in both high quality and concentration levels. This product is unique to the market as it allows the consumer to choose the desired level based on the effect one is seeking. This specific CBD spray alongside traditional ingredients provides a perfect match of both value and quality. The product is set to launch specifically as an individual product or as an addition to daily regimen set in an innovative full hemp oil product cosmetic and supplement line.
In this launch, a phenomenal system of holistic care is formulated for men and women and has emerged and will lead the current market in CBD oil based supplements and cosmetics. This bottle comes in an 8ml spray form. Perfect to fit in your purse or travel with.
Hemp Oil and Ingredient Facts
Hemp Oil is saturated with good fatty acids, protein, Omega 3 & 6 and fiber. Many are shocked to find that it is a great source of tocopherols which is Vitamin E. This blend is rich in antioxidants as well. Benefits for Energy Hemp oil contains fatty acids and those are great for the skin. They nourish and when used in the correct amounts and in combination with other elements such as herbal compounds there is virtually no adverse side effects. It is long held that hemp oil will restore a youthful appearance and hydrate the skin. When used regularly and in combination with similar it can provide great anti-aging benefits. Hemp oil can help in the prevention of eczema, acne and dry skin. CBD oil is believed by the community to have analgesic properties as well as anti-oxidant and anti-inflammatory effects. Valerian Root and Melatonin are known for their sleep support.
Release ID: 146491