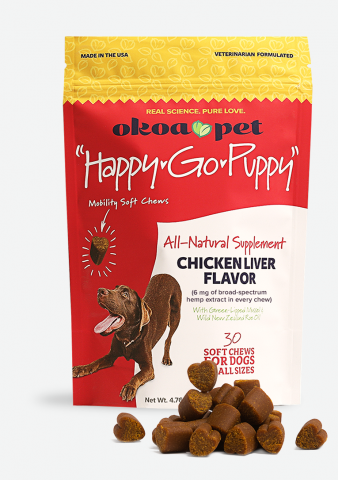 - June 18, 2021 /PressCable/ —
Boulder, Colorado-based pet treat retailer Okoa Pet has launched "Happy-Go-Puppy' CBD-infused mobility chews for dogs. The USA-made natural supplements support dogs by providing relief from the discomfort associated with joint and hip pain, resulting in improved mobility.
For more information see https://okoapet.com/product/cbd-infused-mobility-dog-chews-for-joint-and-hip-health
The newly launched supplement product is provided on the retailer's online store as an all-natural alternative for joint health in dogs. By helping canines to aid discomfort and aches in their joints and hips, the "Happy-Go-Puppy" chews can lead to noticeable changes in their overall demeanor.
Cannabidiol or CBD is quickly becoming prominent as a means of supplementing better health and wellness, particularly for pets. Statistics indicate that more than half of surveyed veterinarians consider CBD to be beneficial for dogs, and regularly use CBD products to treat an array of pet-related ailments. Okoa Pet taps into this growing trend with their new mobility dog chews.
It is common for dogs to develop stiffness and discomfort in the joints as they grow older and heavier. Company representatives explain that the supplements are suited for the treatment of age or weight-associated joint and hip pain, providing dogs with support while promoting improved movement.
Through a combination of minor cannabinoids, cannabidiol, green-lipped mussel, and New Zealand roe oil, the chicken liver-flavored chews act as a natural anti-inflammatory measure.
In addition to joint pain relief, dogs will benefit from increased mobility as a result of the "Happy-Go-Puppy" CBD-infused chews. The product is designed to facilitate higher levels of activity in dogs of all breeds and sizes as they regain the ability to move around with greater comfort.
One satisfied customer said of the product: "A couple of months ago, my dog jumped off a neighbor's porch and fractured her front leg. She was limping for weeks, and even after recovery she was hesitant about running around and seemed very stiff. After just two weeks on the mobility chews, she is back to her rumpus puppy behavior."
Interested parties are invited to visit https://okoapet.com/product/cbd-infused-mobility-dog-chews-for-joint-and-hip-health to learn more about the CBD-infused mobility chews for dogs.
Release ID: 89025705