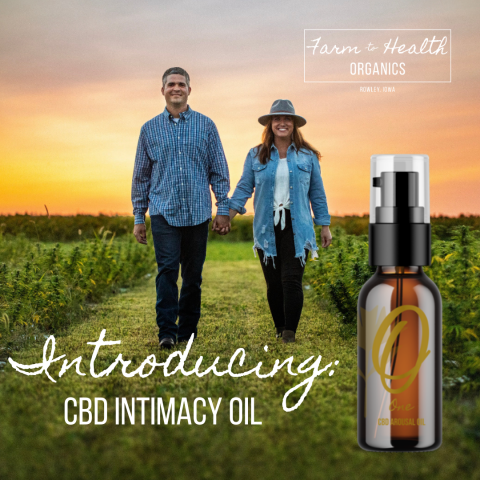 - March 15, 2021 /PressCable/ —
Farm to Health Organics, a faith-based company focused on healthy relationships, has launched a CBD oil product that promotes intimacy for women. Females report that it helps them with arousal and pain relief during intimacy.
For further details, see https://www.farmtohealthorganics.com/product/premium-cbd-intimacy-arousal-oil
The premium CBD oilproduct was launched to give couples a natural, safe, and affordable solution to enhance intimacy. The oil is made from organic hemp and restores and strengthens marriages by helping couples relieve pain during intercourse.
Hemp oil has been shown to enhance euphoria and tactile sensations, optimizing the body for satisfying intimacy. This CBD lubricant is massaged directly to the female genitalia. CBD is an anti-inflammatory that decreases pain and discomfort, and also relieves muscle tension.
Reported product benefits include accessible and elevated orgasms, diminished pain, heightened desire, enhanced pleasure, gliding lubrication, and relaxed muscles.
The product is made of MCT oil, cinnamon extract, vanilla extract, peppermint extract, kava kava root extract, cardamom extract, ginger root extract, and full-spectrum hemp extract. Vanilla has been added to the lubricant to increase arousal. It has historically been used in perfume as an aphrodisiac and has been shown to increase men's sexual arousal by 9 percent.
The company has also combined cinnamon, cardamom, peppermint oil, and ginger to increase blood flow and provide a cooling tingling sensation and heat. As blood rushes to the female organ, the cooling sensation of peppermint enhances relaxation, while the warming properties of ginger aid in enhancing the sensual experience. Kava kava root has also been added for enhanced sensation.
This 100% plant-based lubricant blends herbs, and plant science has produced a formula that excites, soothes, and enhances female arousal.
A company spokesperson said, "This hemp oil personal lubricant is based on a history that extends over millennia. The combination of ingredients increases relaxation and blood flow, and provides a deeper connection between the body and mind."
For more information on the company and their products, see the above URL.
Release ID: 88998174