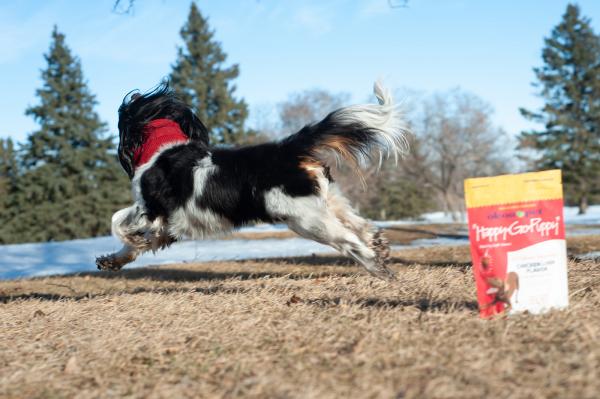 - June 9, 2021 /PressCable/ —
Okoa Pet, an animal health company based in Boulder, Colorado, announced the availability of cannabidiol (CBD)-infused "Happy-Go-Puppy" Mobility Chews to support dogs' joint and hip health.
More details can be found at https://okoapet.com/product/cbd-infused-mobility-dog-chews-for-joint-and-hip-health
The launch of the safe, all-natural supplement aims to provide dogs with relief from joint stiffness and discomfort. A combination of ingredients in the supplement, which include 6 mg of CBD and 3 mg of minor cannabinoids, helps keep joints lubricated and free of friction.
Older, overweight, and larger-breed dogs are more prone to experiencing stiff, achy joints. This is the result of aging and the stress of having to bear excess weight, leading to discomfort. Dogs are less likely to move if they feel this discomfort, which increases their likelihood of putting on weight and placing even more pressure on their joints.
"Happy-Go-Puppy" Mobility Chews for dog joint health are made with green-lipped mussel oil and wild New Zealand roe oil, which act as anti-inflammatories. Another ingredient, green-lipped mussel powder, contains glycosaminoglycans. This compound supports joint lubrication.
The chicken-liver flavored chews have been developed to provide both immediate and long-term relief. The immediate relief comes from CBD, while the other ingredients act over the long term to provide the dogs' joints with the strength they need.
The team at Okoa Pet is comprised of animal lovers: veterinarians, scientists, and other professionals. They came together to develop natural health and wellness pet products that leverage the benefits of hemp, with a focus on pet safety. They maintain this safety through quality and consistency in their products.
A satisfied customer said: "My dog is 12 and he's having a harder time negotiating stairs and jumping up on the couch. I've noticed he doesn't seem nearly as stiff in the morning now and is more content. He can't get enough of the flavor so I have to keep the chews away from him."
Additional information on the CBD dog treats for joint support are available at https://okoapet.com/product/cbd-infused-mobility-dog-chews-for-joint-and-hip-health
Release ID: 89023483