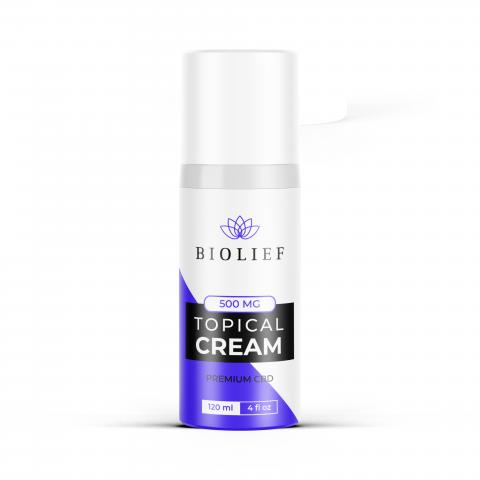 - July 16, 2020 /PressCable/ —
Biolief, an alternative health company that utilizes the hemp plant to improve people's lives, has launched a new organic topical cream to alleviate pain, reduce soreness in muscles, soothe aches and assist with certain skin conditions. The lotion is therapeutic, moisturizing, and vegan.
View the product at https://biolief.com/product/500-mg-relief-topical-cream
The newly launched organic vegan topical cream has been made without parabens, dyes, or synthetic fragrances. It is designed to leave skin feeling moisturized and enriched while also soothing aches, pains, and muscle soreness.
It promotes good circulation, is highly emollient, and is efficacious for various skin conditions. It contains a non-GMO phytocannabinoid rich hemp oil, which is the active ingredient that acts to soothe and alleviate soreness.
In recent years, consumers have been turning to natural, alternative, and plant-based medicines to treat their ailments. With the rise of the fitness and personal health industries, protein powders and natural remedies to relieve pain, muscle soreness, and aches have become more popular.
Hemp and CBD in products such as creams and oils contain anti-inflammatory properties. This means that people who use these products can potentially recover faster, regardless of whether they are recovering from an intense workout or a medical condition.
Anti-inflammatory products can soothe sore muscles while aiding recovery, as well as helping people to treat skin conditions such as acne, psoriasis, and eczema. It does this by hydrating the area to reduce dryness, which can also alleviate any redness or irritation.
Biolief differentiates itself from other suppliers of hemp-based creams as it is founded by a leading group of entrepreneurs, doctors, and attorney's that advocate for alternative biological solutions. Its products are derived from best-in-class research to maximize plant-based healing options.
A company representative said: "At the foundation of our process, we are dedicated to sourcing the highest-quality product and creating formulations that will be of maximum benefit to our consumers. We deliver those in combinations that provide maximum efficacy and relief."
To find out more, interested parties are invited to visit the website provided. Alternatively, click here https://biolief.com.
Release ID: 88968712