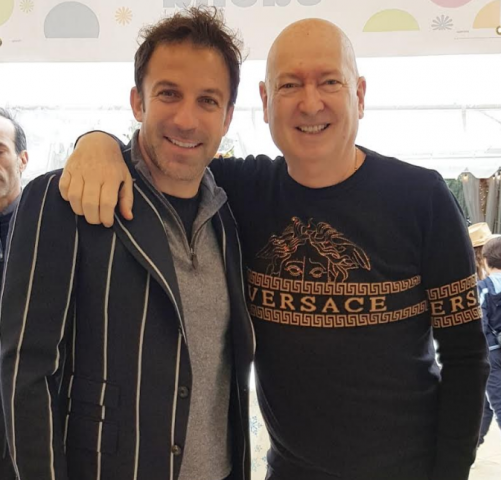 - September 4, 2021 /PressCable/ —
To Sir Bruno Serato, founder of the nonprofit named after his mother, Caterina's Club, October 10 may be the most important day of 2021 as he announces plans for his upcoming gala to be held that evening. Tickets are $350 each and tables for 8 ranging in price from $5,000 to $50,000 with funds raised to help the nonprofit fulfill its mission of feeding some 5,000 youth each day, finding permanent homes for families in need, and helping at-risk youth stay off the streets by offering them training and job placement in the restaurant and hospitality industries. (Contributions to the fundraiser are tax-deductible minus the costs of food and service.)
Serato says that the Sunday, October 10 fundraiser, which will be held at the Anaheim White House Italian Steakhouse restaurant, promises to be a spectacular evening featuring drinks and hors d'oeuvres at 5 p.m., a 4-course sit-down dinner with wine at 6:00 p.m. and live music and dancing to follow.
Among the distinguished guests to be feted that evening are Smart & Final executive Kent Kuwata, Freshsource Southwest President Mike Casazza, community philanthropist Luciana Queiroz, physician/humanitarian Gnuyandev (Dave) Patel, M.D., and soccer legend Alessandro del Piero and his wife, Sonia Amoruso. Each will be recognized for their tireless and selfless dedication to serving Caterina's Club.
For those who are unable to attend the fundraiser, opportunities to support the event are available and arrangements will be made for dinners to be held at the restaurant at a later time. For more information about attending the gala or supporting its efforts, call (657) 201-3278 or info@caterinasclub.org.
"This is our most important fundraiser of the year as far as having the opportunity to raise enough funds to keep food on the plates of hungry children, homes for families in need, and jobs for at-risk youth," says Serato. "As we gradually get back to our pre-pandemic lives, this is a great opportunity to join together with others dedicated to helping those in need who live right here in the backyard of such great wealth. We hope to see you at our gala!"
Situated in a historic national landmark mansion dating to 1909, the Anaheim White House Italian Steakhouse offers a broad menu of northern Italian fare including prime grade steaks and fresh seafood, an extensive wine list, unparalleled service, and an elegant setting to create an extraordinary dining experience. With its close proximity to Disneyland, the dining establishment has become a favorite destination for tourists, locals, and dignitaries visiting the park. Among the luminaries from the worlds of entertainment, sports and politics are Madonna, Sidney Portier, Andrea Bocelli, Gwen Stefani, Wolfgang Puck, Derek Jeter, Oscar de la Hoya, President Jimmy Carter, President George W. Bush, and the Crown Prince of Belgium.
For his work on behalf of Caterina's Club, Serato has earned international publicity including profiles in People Magazine and has appeared on countless TV news and talk shows including "The Drew Barrymore Show," "Access Hollywood," "The Doctors" "CBS Evening News" and "NBC Nightly News." Among his many honors: CNN Hero, knighted by both the Italian government and the House of Savoy, Ellis Island Medal of Honor, a papal blessing from Pope Francis, humanitarian award on the steps of the U.S. Capitol, and numerous proclamations, Man of the Year awards and other forms of recognition — all of which he accepts to generate public awareness of Caterina's Club. For more information, visit www.caterinasclub.org
Anaheim White House is located at 887 South Anaheim Blvd., in Anaheim, Orange County. To make reservations or for more information, call (657) 201-3278 or visit www.caterinasclub.org
*******
Release ID: 89043890