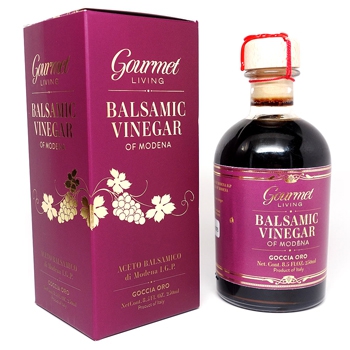 - August 26, 2016 /PressCable/ —
Gourmet Living, the high quality food specialist which aims to enrich the lives of its customers through a disciplined and educational approach to discovering and using the best, most high quality food products from around the world, has launched a new promotion to advertise its balsamic vinegar of Modena. This Italian balsamic vinegar is available on Amazon, where it's receiving glowing reviews for its taste and flavor.
More information can be found on the Gourmet Living website at: http://gourmetliving.org.
Gourmet Living is a husband and wife team, which was launched three years ago as a bid to enrich and diversity the food culture of the country by focusing on the best ingredients and what they can offer in the kitchen. Gourmet Living sources natural products from trusted farmers and producers, with the goal of allowing fellow cooks and gourmands to make use of high quality products when they cook.
The Gourmet Living balsamic vinegar product is a premium vinegar from Modena, and consists only of barrel aged wine must and wine vinegar. There are no additives or preservatives, which are a common staple of many balsamic vinegars, and it has been bottled in Italy and certified IGP by the Italian growers association.
The site goes on to explain that its balsamic vinegar is sealed with a wax cap and sold with a beautiful box, so it can be used as a gift to give to friends, colleagues and family.
Producing and aging balsamic vinegar is a time-consuming process that dates back several hundred years. Over time, producers have succumbed to the temptation to shorten the natural aging process and often dilute the grape must with inexpensive wine vinegars and the addition of additives like caramel to add thickness to the syrup.
Italian authorities have since introduced strong measures to ensure the high quality and authenticity of its home grown products, and the Gourmet Living balsamic vinegar from Modena is a mark of this quality.
Gourmet Living explains that the luxury balsamic vinegar can be used with a wide range of foods, from Parmesan to ice cream, where it can create a unique flavor profile.
During its summer promotion, one may purchase this natural balsamic vinegar on Amazon for only $25 (regular price is $38.50) with a special promotional code.
Release ID: 129584