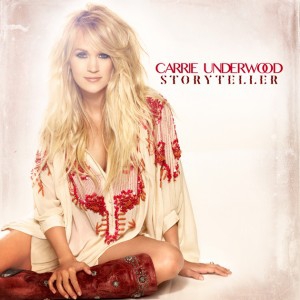 - December 29, 2015 /PressCable/ —
Carrie Underwood fans will have more chances to see the pint-size country power player when she visits Europe during her Storyteller Stories in the Round tour in the upcoming months. Underwood's tour operator has announced the addition of two Scandinavian dates for this spring. Underwood will be featured at Europe's hottest country music festival, Country to Country, in multiple cities, including shows in Oslo, Norway and Stockholm, Sweden. The seven-time Grammy winner was already scheduled to headline the C2C festival in Glasgow, London and Ireland.
The Storyteller Tour is in support of Underwood's latest full-length release, Storyteller, which debuted at number one on the Billboard chart in October, making her the only artist in history to debut six consecutive albums in the number one spot. The album dropped to number two briefly, then surged back to number one amidst a flurry of television appearances and the release of two new album singles. The album was certified Gold in November. The original single from Storyteller, "Smoke Break," was released in August and broke the record for number of first week adds at radio stations around the country. The second single from Storyteller, "Heartbeat," released earlier this month to critical acclaim and fan adoration, quickly became Underwood's 22nd chart topping single.
Underwood has had a busy year all around. In addition to recording Storyteller – her 5th studio album – the country music superstar racked up appearances at nearly every country music awards show held, garnered another Grammy award nomination and had a son with husband, Mike Fisher. She will end the year helping to anchor the New Year's Eve festivities with old friend Ryan Seacrest, and take a month off to relax with her family.
The Storyteller Tour kicks off with a January 30 show in Jacksonville, Florida, and will spend a month touring stateside before heading across the Atlantic for a series of dates across Europe. Underwood plays shows as the headliner in the Country to Country music festival, beginning February 25, and returns to the States in late March for the second leg of the North American show, starting in Youngstown, Ohio.
Carrie Underwood will be playing more than 40 shows over the course of the tour, many of them in sold-out arenas. Fans looking for Carrie Underwood concert tickets may have some luck checking third-party ticket sellers. The inventory changes constantly, says the owner of ConcertBank.com, so if you don't find what you want the first time around, check back frequently until you do.
About: ConcertBank is an independent online ticket broker that specializes in obtaining premium and sold out sports tickets, concert tickets and theater tickets to events nationwide. Ticket price is dependent on the current market price, which is usually above the face value of the ticket. Those people interested in getting great seats for upcoming concerts are encouraged to visit the website or call 844-425-0512.
Release ID: 100060