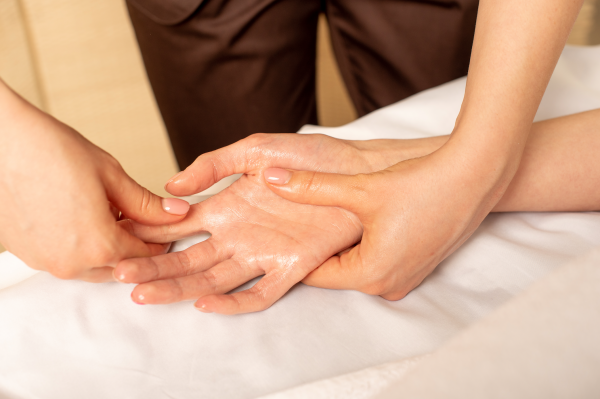 - February 10, 2022 /PressCable/ —
The new device has been developed specifically to assist sufferers of carpal tunnel syndrome. It can be used for both immediate pain relief and for longer-term improvements in ease and flexibility.
More details can be found at https://hanzzen.com/products/hand-massager
The launch coincides with recent increases in the prevalence of carpal tunnel in the adult population of North America. The latest figures indicate that, on average, 6% of adults are now suffering from the effects of the syndrome. Moreover, in the US, carpal tunnel surgery is the second most common type of surgery, with well over 230,000 procedures performed annually.
As society becomes increasingly oriented towards smartphone and computer use, the personal and economic impacts of the condition can be particularly harsh. According to the National Institute for Occupational Safety and Health (NIOSH) fewer than 20% of carpal tunnel patients are able to return to work in their former industry, even after surgery.
Given the severe impact of the condition, combined with the limited effectiveness of more traditional treatment plans, Hanzzen is excited to present a low-intervention and side-effect-free device that can alleviate the symptoms, and thus the burden, of carpal tunnel.
Reducing a patient's dependency on harsh pain medication, the device works by providing a targeted massage to over 400 acupuncture points on the hand. More information on how the Hanzzen® works and its benefits can be accessed at https://hanzzen.com/blogs/news/hand-massage-for-carpal-tunnel-massage-therapy-explained-hanzzen
The device uses the latest in medical technology and patients who have begun to use it have reported notable reductions in the pain, numbness, tingling, weakness and shooting "electric shock" pain that are associated with the condition. Likewise, they have observed notable improvements in their range of movement, grip strength and hand function.
Regular use of the Hanzzen® has also led to improvements for people with rheumatoid arthritis, chronic hand pain and other inflammatory conditions.
Hanzzen is a medical device manufacturer that is passionate about relieving the debilitating symptoms of carpal tunnel syndrome and other common physical ailments.
A spokesperson for the company said, "We founded Hanzzen to help improve the quality of life of people facing chronic hand pain. Our cutting-edge massager smooths out swelling and restores hand movement – all without the use of medication."
More information is available at https://hanzzen.com/blogs/news
Release ID: 89063691