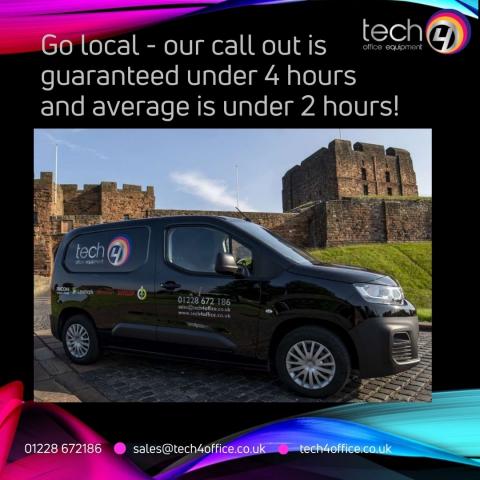 - August 23, 2021 /NewsNetwork/ —
Tech4 Office Equipment, Ltd. (Tech4), a family-owned printing solutions provider in Carlisle, has announced its plans for expansion amidst the country's ongoing recovery from the effects of the pandemic.
More information is available at https://www.tech4office.co.uk/office-printers/a3-printer-scanners
With this new announcement, customers and clients will be able to benefit from a wider range of technology products and improved support from a larger staff. This move further adds to the company's capabilities and offerings, which have earned it the esteem of local businesses in the city.
One of the highlights of this expansion is access to a wider range of A3 printer-scanners from well known brands, such as Ricoh, Lexmark, and Sharp. Its offerings include devices that feature modern capabilities like internet faxing, mobile printing, remote monitoring, and more.
Depending on one's needs, Tech4 can help them choose the ideal machine, as well as provide them with the plan that suits their budget. The company provides short-term printer rental, leasing arrangements, and Printer Pal, a pay-per-print service designed for those with varying printing demands.
According to the company, it goes out of its way to fully understand the client's needs. Its process includes a thorough evaluation of the business during the pre-sales phase to identify the ideal equipment.
The company services the entire Carlisle area, including all major industrial parks north of the river, such as Kingmoor Park, Kingstown Industrial Estate, and Harker Estate, among others.
Tech4 has experienced rapid growth and successfully weathered the economic impact of the pandemic. While other employers in the city sank, they flourished and were one of the few local companies to take on extra staff at the height of the crisis.
The company credits its resilience to its core values, which have helped it establish a solid reputation among local businesses. "Tech4 focuses on supplying its customers' office equipment needs and caring about great service, not just selling office supplies and products," it stated on its website.
Tech4 is an ISO 9001-certified company and is accredited by the Good Business Charter. A firm supporter of sustainable business practices, it recycles and has also partnered with the Woodland Trust to reduce its carbon footprint.
Additional details about the company's products and solutions can be found at https://www.tech4office.co.uk
Release ID: 89042682