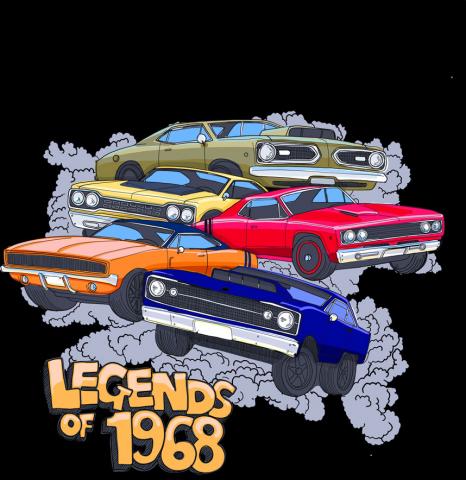 - May 16, 2018 /PressCable/ —
For those readers who get nostalgic when they hear 'Sundaaay!', here is something to cheer about. The 50 year tribute of the 1968 model Dodges & Plymouths at the Carlisle Chrysler Nationals will be a big draw in July. Not only this, new merchandise has been launched by Quarter Mile Addiction in the form of Legends of 1968 hoodies and accessories. Revive the glorious memories of drag strips in that momentous year of 1968 with this new set of premium T-shirts, wallpapers and mobile phone covers. Further info can bee seen here https://www.quarter-mile-addiction.com/first-muscle-car-legend-series
Fifty years is a long time for us mortal humans, but what about the mopars, muscle cars and especially the Dodges that floored everyone and burnt the drag racing strips of 1960s? Their undying spirit can be watched and experienced this year again at the Carlisle Chrysler Nationals to be held at the Carlisle Fairgrounds in PA. Every mopar lover ought to be there to see over 3,000 vehicles drawn from Chrysler and the classics of those well known decades.
There was probably never anything built like the 1968 Dodge Dart. The late 60s witnessed the advent of exhibition cars, top fuel and funny car vehicles, and stock and super stock cars, with several Mopars thrown in. The weekly races saw the domination of Max Wedges and the RO/WO23 cars.. Then came the innovation that a mad scientist will be proud of. A 'B' body 426 Hemi transformed into an A body Dodge Dart or a Plymouth Barracuda, and these race only cars shattered every record book cherished until then.
All of this hallowed history will be on display this year at the Carlisle Chrysler Nationals, and what better way to make it even more special than wearing a premium T-shirt featuring five of the big cars of 1968 – the SS Barracuda, Plymouth Roadrunner, Dodge Coronet/Superbee, Dodge Charger and the SS Dart.
The Quarter Mile Addiction store offers exclusive tributes to the bygone era of drag racing. Apart from the 'Legends of 1968' T-shirt and accessories, more legendary offerings are scheduled for the big events to take place this year, the Mopar Nationals, Mopar Fest, and the NHRA US Nationals.
All merchandise from Quarter Mile Addiction is manufactured in the US, and comes with regular and speed delivery. The limited edition 'Legends of 1968' T-shirt and merchandise can be bought from the official Quarter Mile Addiction Store..
Release ID: 344252