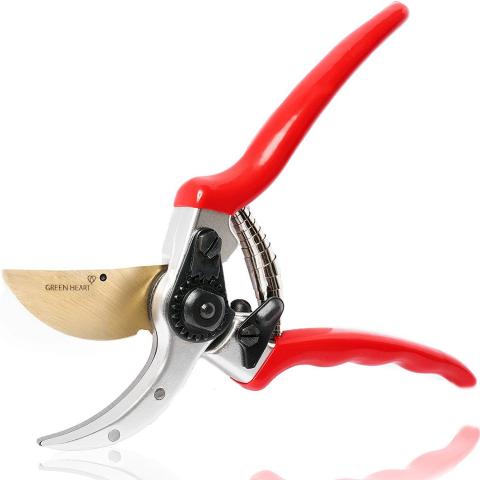 - March 26, 2019 /PressCable/ —
Green Heart Lifestyle has stepped into 2019 on a positive note as the brand continues to gain praises from Amazon customers for its pioneering product, the carbon steel bypass gardening shears.
Since its debut, these shears have received favorable customer reviews and remain as one of the popular gardening tools in the pruning scissors category of the largest retail store online.
The brand has gained a great deal of attention among avid gardening enthusiasts and gardening professionals. The stream of positive customer feedback is not only making Green Heart a success on Amazon but also in the garden tools marketplace across the US. Green Heart broke new ground in the garden clippers market when they first introduced their Carbon Steel Bypass Pruning Shears. Built to last longer than conventional gardening shears, the blades are made of highest grade stainless steel, then hard-chromed and treated with a carbon coating system.
Many customers have expressed their satisfaction with these pruning shears through positive reviews on Amazon. A Green Heart customer Martha Summer commends the product in her review: "These pruning shears are super sharp. They are making my spring trimming much easier. I've put them to the test on a lot of stuff and they've cut through everything."
In another Amazon review, Christine Ciesielski was also highly impressed with the quality of prunes, saying, "These pruning shears are sharp, cut very clean, and are professional quality pruning shears! Most pruners of this quality would easily be twice the price."
It seems clear that Green Heart has put a lot of focus on the quality of blade but the company emphasized that there are other notable features worth mentioning about these thoughtfully crafted gardening shears. These expertly designed garden pruning shears are made with finest carbon to prevent rust and corrosion. A simple wipe with a well-oiled cloth after use is enough to keep these pruning shears in top condition.
The extra comfortable handles of these shears are designed to suit the shape of both women's and men's hands. Its compact secateurs come with dripped handles for easy gripping. From pruning bushes in the backyard and trimming herbs from a kitchen window box to arranging the office plants, these shears offer multi-purpose benefits. The custom-made carbon blades made from a rust-resistant technology stay sharp for a long period of time. These blades are strong enough to cut through thin branches and stems without staining. Green Heart has made sure that customers don't have to worry about unfortunate accidents by incorporating a thumb-operated safety lock.
The Carbon Steel Bypass Pruning Shears are ideal for people with weak hands or those that do extensive pruning for hours because they are comfortable to use and reduce the risk of repetitive motion injuries. The company further explained that this product is designed with user comfort in mind, as evident in its non-slip ergonomic handles and shock-absorbing pads. In her Amazon review, Sara Steidinger seems to agree with these benefits, commenting, "I have smaller hands and have a hard time finding shears and tools that are comfortable, yet powerful enough for my needs. I am really happy with these pruning shears; they have made gardening much easier for me."
The company is determined to continue this positive trend by providing high-quality gardening tools, backed by unmatched customer experience and product support. Green Heart encourages its fans to like their Facebook page and join the growing community of gardening enthusiasts for latest product news, daily gardening tips, and regular sale discounts.
Release ID: 495243