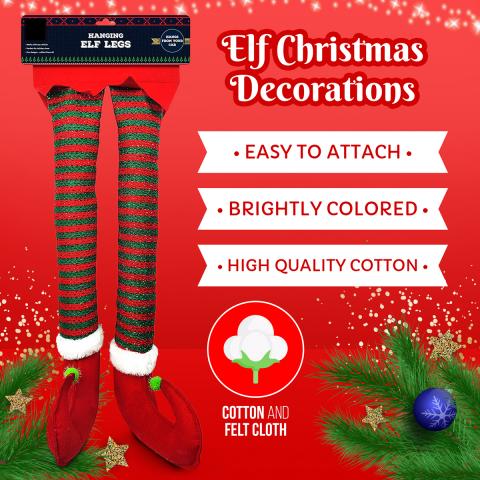 - January 25, 2021 /PressCable/ —
WG Wholesale Inc has announced the launch of new decorative Hanging Elf Legs by Season 4 Sparkles for the festive season. The Christmas decorations come in various styles, providing customers with comedic seasonal ornaments for automobiles and homes.
For more information see https://www.amazon.com/Season-Sparkles-Christmas-Decorations-Fireplace/dp/B08LNXNNR4?maas=maas_adg_42023039364C9B765E055AC47F6756DE_afap_abs&ref_=aa_maas.
The newly launched Hanging Elf Legs are designed to allow customers to furnish their households and vehicles with unique Christmas decor. With continuing stay-at-home and anti-mixing rules in many parts of the world having a negative effect on festive cheer, the products aim to boost holiday spirits with humor.
The decorations can add a holiday-themed touch to all vehicles, hanging from car trunks and windows as well as motorcycles and bikes. Hanging Elf Legs are easy to attach and can also be displayed in fireplaces, chimneys, front yards and more.
Their brightly-colored designs make them suitable for both indoor and outdoor decoration, with customers able to safely hang and attach them to surfaces without causing damage. With red and green striped patterns, the Hanging Elf Legs are intended to create a festive atmosphere wherever applied.
Made of high-quality cloth and felt, the durable products can be reused on an annual basis, or for any special occasion. Their ultra-soft plush fabric enables the Hanging Elf Legs to be used this Christmas and many more to come.
Manufacturers describe the Hanging Elf Legs as ideal centerpieces for Christmas parties and festivals, with both children and adults enjoying the products as gifts and decorations.
"The adorable elf legs express the Christmas spirit in a funny way," said a company spokesperson. "They're great for hanging in the fireplace, buried upside-down in the front yard in the snow, sticking out of the chimney, or hanging out of the trunk of your car. We believe they're perfect for sprucing up your vehicle – wherever you go, you'll receive compliments on your cute decorations."
With the latest announcement, Hanging Elf Legs are distributed to help customers in the USA and worldwide to display vintage holiday spirits.
Interested parties are invited to find out more about the new Hanging Elf Legs at the above URL.
Release ID: 88994847