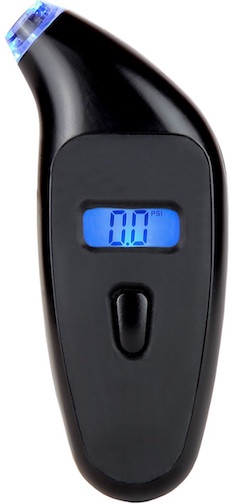 - November 9, 2016 /PressCable/ —
Ionox is having a special Amazon sale where their car tire pressure gauge will be discounted up to 35% off their original MSRP. Bestselling gauges that typically sell for $24.95 and have been highly rated by customers can now be purchased for $8.95 and $9.95, for the silver and black tire pressure gauges, respectively.
"We are excited to share our useful and advanced products at these limited-time low prices. Customer safety is extremely important to us, and at Ionox, we think that our tire pressure readers are a must for every car owner or commercial driver," Says Ionox spokesperson Chloe Joy. "These tire gauges also make for a wonderful gift giving option, so purchase them up for loved ones in your life for them to keep in their vehicles."
Tire experts recommend that tire pressure measurements be taken on a monthly basis. By maintaining proper tire pressure, it can improve fuel efficiency, provide safety, and can increase the life of a vehicle.
Often receiving 5-star reviews from Amazon customers, there are many features that are impressing those who have been able to try these gauges out. Its design features everything from a comfortable grip, durable materials, an easy-to-read screen, and can measure multiple pressure scales such as, 150PSI, 1000kPA, 10 Bar, 10 kg/cm2. There are many advanced features as well, such as the LED-lit nozzle and backlit display. The blue night has been praised for those who have had to travel at night.
One Amazon customer stated in a review that "I received this as a gift, and really enjoy it. The best part is the back light. I have checked many a tire late at night now. This is a keeper to have keep in the vehicle." While another praised that "I've been looking for an alternative to our old tire pressure gauge and I'm glad I chose this one. The blue light make[s] it easy to use at night. No more having to use a flashlight when checking tire pressure. So much easier and faster."
Made from die-cast metal, this ergonomically designed casing comes in both silver and black. It has a rubberized grip which comes in handy for wet weather conditions.
At current press time, the Ionox tire pressure gauge has been give an average rating of 4.7 out of 5 stars. Some Ionox customers have also provided instructional videos in their reviews to share with others.
To learn more about the 35% discount, purchase the item, or to read more customer reviews, please head to http://www.amazon.com/tire-pressure-gauge/dp/b00zu
Release ID: 144492