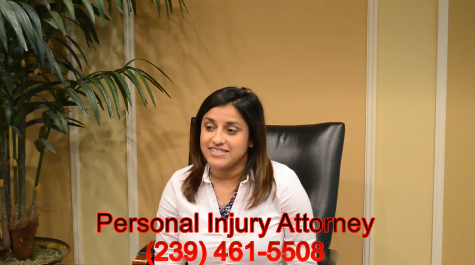 - May 25, 2017 /PressCable/ —
Attorney Sheba Abraham Named Partner at Goldberg Noone, LLC, Law Firm
Personal injury trial attorney Sheba R. Abraham, formerly an associate, has been named a Partner at the Fort Myers, FL, law firm of Goldberg Noone, LLC.
Abraham is licensed to practice law in Florida and in New York, and dedicates her practice areas to personal injury, wrongful death, premises liability and negligent security. Abraham is a proud Florida Gator, having earned both her Bachelor's Degree in accounting and her Juris Doctor law degree from the University of Florida. She is licensed to practice law in any Florida or New York state court, as well as the Middle District of Florida's United States Supreme Court.
"I am so proud of receiving this offer of a Partner position at the firm, and I'm really looking forward to continuing the work we do on behalf of our clients", says Abraham. "I get a real satisfaction helping people who have been hurt through absolutely no fault of their own, and I find it extremely fulfilling to help them get back on their feet, and obtain the financial compensation they deserve under the law".
Abraham has an impressive background in the legal field, having clerked for the Honorable Devin P. Cohen in the New York City Civil Court. While in law school, Abraham was on the distinguished Tax Moot Court, and received a merit scholarship during each of her years at the University of Florida. She also served in an externship at the Corporate Office of the General Counsel for Adventist Health System, and was employed as a financial analyst at Siemens Energy.
The Goldberg Noone, LLC, law firm was founded by Scot D. Goldberg and Michael M. Noone in 2000, and the firm's principal office is located in Downtown Fort Myers, Florida. "Mike and I are thrilled to have someone of Sheba's caliber on our team, and feel extremely fortunate to be able to utilize her litigation skills on behalf of our personal injury clients", said Goldberg. "My father was also a personal injury lawyer, and he taught me at a young age to surround yourself with the best and brightest people possible – we feel we've done exactly that in making Sheba a Partner at the firm".
Abraham was most recently successful as a member of the trial team that represented the father of a young motorcyclist who was killed when a car made a left-hand turn into his right of way, as well as obtaining a significant financial settlement for the victim of a sexual attack at a Southwest Florida motel.
Additional information here in this recent video interview: https://youtu.be/EZCv0O3RnYQ
Founding Partner Mike Noone points out how important it is to fully grasp all of the complex legal litigation aspects involved in the practice of personal injury law. "Our firm has worked on cases for years, with insurance companies using stalling and stonewalling tactics to avoid paying our clients a fair and reasonable settlement", he says. "There is so much research and discovery that needs to take place, arranging and conducting depositions with witnesses and the parties involved, filing myriad legal documents with the courts and a host of other things – Sheba is so proficient at these things, she adds a great value to our firm and what we do for our clients".
Release ID: 202633