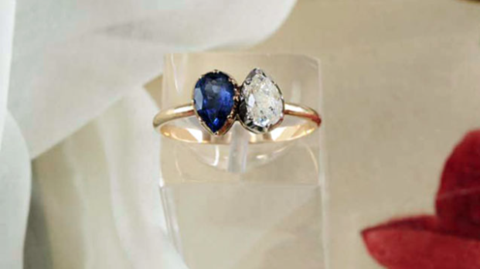 - July 19, 2021 /PressCable/ —
Toronto-based private jeweller Skyjems has published a report that aims to educate readers about the merits of sapphire as an engagement ring gemstone.
More information is available at https://skyjems.ca/blogs/news/famous-sapphire-engagement-rings
The newly released material makes a strong case for the use of the precious blue stone as an alternative to the more popular diamond. According to it, whilst diamonds are more popular, sapphire has also been an excellent choice for this type of jewellery, as evidenced by the people of renown who wore it throughout history.
The report's highlight is a list of these individuals, starting with one of the most famous historical figures associated with a legendary piece of jewellery, Napoleon Bonaparte. The conqueror gifted a toi et moi ("you and me") ring to Joséphine de Beauharnais, who he married soon after.
The iconic piece is now owned by a private collector who won it at an auction for nearly a million dollars.
Skyjems's roster also includes more modern examples, such as Elizabeth Taylor and her engagement ring that features a large cabochon sapphire. Her displaying of the impressive piece is widely considered as the catalyst for sapphire's jump in popularity amongst aristocrats and celebrities at the time.
Decades later, this demand has not waned, as sapphire rings continue to make headlines along with today's who's who. Examples of these are Kate Middleton's ring, which previously belonged to the late Princess Diana, and the ones seen on stars like Victoria Beckham, Penelope Cruz, and Elizabeth Hurley.
According to the report, sapphire's ability to capture the attention and captivate people today is a testament to its timeless beauty, and proves that it is a worthy addition to any bespoke engagement ring.
Additionally, the guide offers recommendations from the company's catalogue, including a wide array of single stones, sets, and jewellery. Customers are assured of their quality and authenticity because they have passed the scrutiny of the Gemological Institute of America.
This dedication to quality has ensured the longevity of the Skyjems brand, which has been in business since 1967. In addition to sapphire, the company has shared its insights about other types of gemstones in other materials, which can be found on its website.
Those interested in reading the entire report are encouraged to visit https://skyjems.ca/blogs/news/famous-sapphire-engagement-rings
Release ID: 89037189