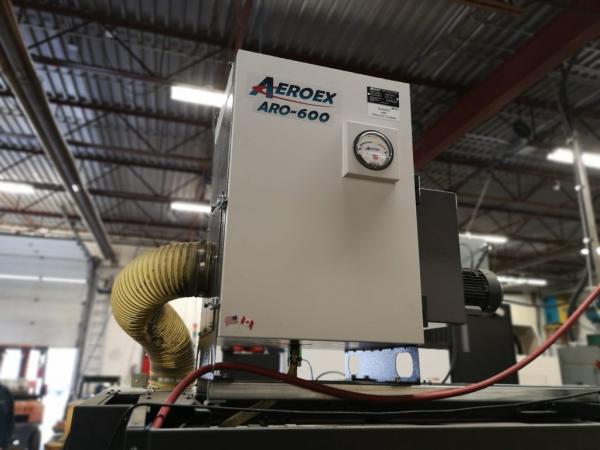 - April 11, 2021 /PressCable/ —
Barrie, ON based industrial emission control manufacturer and supplier Aeroex Technologies has launched a new website detailing the company's product range and providing industry information services. Aeroex Technologies provides oil mist collectors, HEPA filtration for healthcare facilities and more.
More details can be found at: https://aeroex.com
The website provides in-depth information on the company's air purification devices, metalworking mist collectors and bespoke design services.
High-efficiency particulate air (HEPA) refers to a standard for air filtration devices. The standard requires the removal of 95% of particles with a diameter equal to 0.3 μm, which can include pollen, dirt, dust, moisture, bacteria (0.2-2.0 micron), viruses (0.02-0.3 micron), and submicron liquid aerosol.
Aeroex Technologies' recently launched website details the company's range of air filtration units, including the certified medical-grade IRIS HEPA system.
The IRIS units comprise a first stage filter that removes large particles, VOCs and odors, and a second stage HEPA filter.
The IRIS units are suitable for use in educational institutions, restaurants, medical centers, clean rooms and pressurized applications. IRIS HEPA product information can be found at: https://aeroex.com/iris-series/
Industrial mist collectors are used to filter oil and coolant mist from the air. This type of mist is often generated by wet machining and metalworking processes.
The new Aeroex Technologies website gives detailed information on the company's range of mist collection devices, including the compact Mist-Fit series.
Mist-Fit units are 15" x 15" and can be machine-mounted. The units utilize innovative multi-stage separation technology that includes a mechanical element, demister element, fiber-bed mist filter and an optional HEPA filter.
Visitors to the new Aeroex website can also find information on the company's bespoke design services, which provide filtration engineering solutions for most applications.
Aeroex Technologies began over 20 years ago as manufacturers of oil mist collectors and has since expanded into air purification and other specialist applications. All mist collection products are manufactured in Canada.
A satisfied client stated: "We've noticed a huge difference since we installed the Mist-Fit mist collector. Air quality is now great, there's no longer mist on all our tools and surfaces. I would highly recommend the Mist-Fit, they're a great unit, priced very reasonably, easy to service, and they're made in Canada."
Interested parties can find more information by visiting: https://aeroex.com/mist-fit-series/
Release ID: 89004765