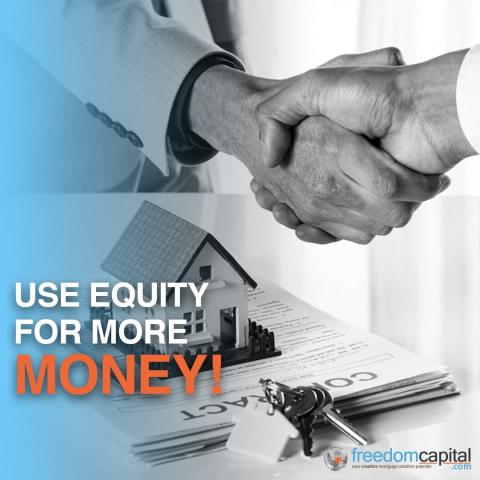 - December 16, 2021 /PressCable/ —
The company explains that Home Equity Line of Credit (HELOC) financing is the ideal approach in the current economy. Scarcity in the housing market means many properties are holding their value, particularly condos, as vacancy rates are low. With a combination of home equity funds and a mortgage, individuals can now increase their credit rating while also diversifying an investment portfolio.
More information can be found at https://www.freedomcapital.com/borrow-using-home-equity
With Freedom Capital's new investment solution, homeowners can leverage existing property and home equity to fund their real estate investments or property development projects.
While most homeowners have heard about home equity, many of them don't know what it is or that they can use it to borrow money or generate revenue. Home equity is built up over time through monthly mortgage payments, and it can be used to fund property purchases, renovations, and to pay off debts.
The team at Freedom Capital can provide clients with a home equity loan that acts as a second mortgage or a Home Equity Line of Credit. Clients can use their home equity as a down payment for another property, whether it's a vacation home, a rental property, or a second home.
A home equity loan offers credit as a lump-sum payment that comes with interest. But HELOC gives potential investors flexibility, as they pay interest on the funds that are used.
Freedom Captial specializes in leveraging the client's existing equity to provide up to 100% financing for property investments. The goal is to use the client's existing assets to help them invest in new projects that will generate revenue. The service is ideal for developers and real estate investors looking to fund projects that were denied by the bank.
About Freedom Capital
Canada's only brokerage that specializes in alternative financing, Freedom Capital creates custom solutions that fit the borrower's needs and budget. They work with a vast network of lenders to ensure fast and hassle-free approval.
A company spokesperson said: "Freedom Capital is considered among the major alternative secured real estate financing providers in Canada. Due to our prominent position in the market, borrowers prefer to choose us over a conventional bank. In times of today, a bank takes weeks or even months to get their mortgage approved. We can get you approved in as little as 24 hours."
Interested parties are encouraged to visit https://www.freedomcapital.com/investment-property-mortgage to find out how to leverage their home equity to buy a new investment property.
Release ID: 89056837