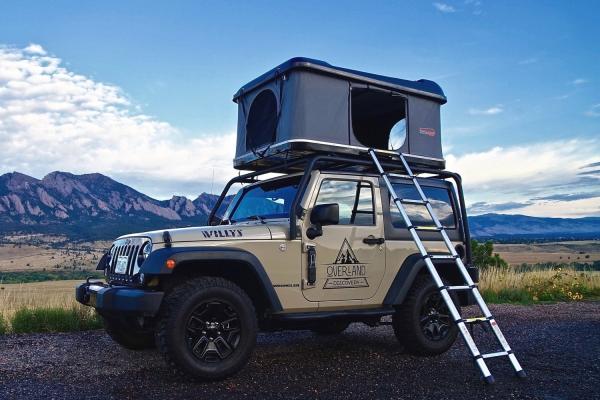 - June 26, 2019 /PressCable/ —
Denver, Colorado – The entire Denver area has a lot of attractions worth seeing, from the Denver Zoo to the world famous Red Rocks Amphitheatre, visiting these attractions can be worthwhile. However, many of these trips can incur a heavy price tag for hotel accommodations. As an alternative, many travelers are opting for jeep campervan rentals which gives travelers an alternative accommodation to hotels.
The recent increase in popularity of jeep rentals and campervan adventuring stems from the availability of great opportunities to see the outdoors without having to worry about hotel accommodation. Adventure seekers and outdoor enthusiasts can stop for the night or for an extended trip in one of Overland Discovery's campervan rentals. Overland Discovery is one of Denver's top Jeep rental companies that specialize in campervan rentals in Denver. The business is not only the best choice for campervan rentals in Denver, they are also the preferred company for locals and out of state visitors, the business is currently offering 15% off rentals for their Summertime sale, which is active with the promo code "SUMMER19", good until August 31st.
Recreational vehicles are also quite popular for traveling across the country but there are huge advantages of overlanding in a jeep or camper van. These "hotel on wheels," gives travelers the opportunity to travel on their own terms. They can go on a spontaneous adventure with their families or travel buddies.
Overland Discovery's campers provide all the necessary gear that one needs for traveling. Overland provides its customers with memory foam mattresses, blankets, and pillows for good night's sleep. The Jeep Campervan's feature a portable kitchen/storage area, stove, and cookware. Overland Discovery also provides camp chairs, tables, and coolers for those who just want to hang around.
Adventure with Comfort
At Overland Discovery, all the vehicles are meticulously designed and fully kitted out so campers can focus more on the adventure and less on the logistics. Travelers can choose from 2-door and 4-door jeep campers. There are also Jeep Rubicon and Jeep Gladiator campers. Each camper comes with the following gear:
Roof-top-tent with 3.5-inch memory foam mattress
Kitchen & storage system
YETI cooler
Camp chairs & camp table*
Pillows, blankets, and headlamps
Two 2-gallon water packs (filled with potable water)
Camp stove, propane & lighter
Cookware, silverware, plating & mugs for 2 people
Cutting board & knife set
Biodegradable soap, sponge & rag
Condiments & french press coffee kit
The campers can also include a hammock, bike rack, power station, sleeping bags, and awnings/tents upon request of the traveler.
The Overland Discovery team are also adventurers who strive to make visiting Colorado possible for everyone. The team has lived all over the world and explored unique places and experienced unforgettable adventures. Overland Discovery is located at 1550 Wewatta St., Floor 2, Denver, Colorado. Interested to book a camper? The business can be contacted at (720) 571-0025, Overland Discovery wants to remind folks about the Summertime sale, which gets them 15% off all vehicles is still active until the end of August.
More information can be found by visiting https://www.overlanddiscovery.com/jeep-camper-overview
Release ID: 88889808