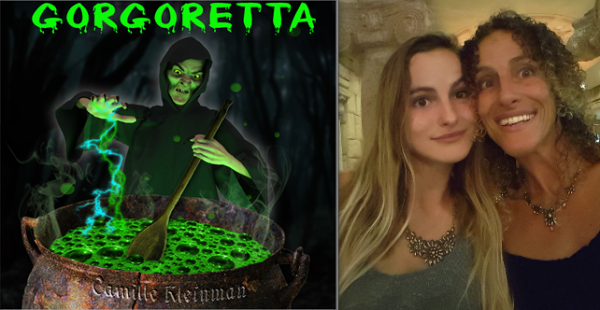 - October 15, 2020 /PressCable/ —
Camille Kleinman published a spooky, magical Halloween audiobook for kids called "Gorgoretta the Wicked Witch".
The story is written by Camille Kleinman and narrated by her mother Eileen Kleinman.
Gorgoretta is an exciting Halloween story about a nasty witch and her bewitched, walking, talking pumpkins.
This story is set in the medieval days and takes place in a small village in the midst of a deep, dark forest.
One dark Halloween night, Gorgoretta sends her wicked pumpkins to kidnap 30 kids from their beds. The pumpkins carry the kids away into the dark forest where the hungry witch awaits them.
Gorgoretta the witch intends to cook the kids up for dinner, but to her dismay a little girl outsmarts her! The kids escape the witch and after a lot of adventures, the witch is defeated and the kids return safely home.
Gorgoretta is a thrilling, suspenseful story full of magic and adventures for ages 6+.
Not only is it a great story, but the audiobook is an amazing, theatrical production that places readers in the middle of the adventure.
A wickedly wonderful voice actress brings the story to life and pulls readers in from the very start. Along with the great narration, suspenseful music and immersive sound effects make for an incredible listening experience.
Gorgoretta the Wicked Witch is an audiobook like no other! It's especially fun to listen to on Halloween but also enjoyable at any other time of the year.
Kids from the age of 5 to 13 enjoyed listening to it.
"My girls loved it!! My 13 and 6 year old!" Stephanie Wade, a homeschool mom of two kids said, "it was so easy to visualize everything! I could see it so clearly, such good details in the wording… Great job!!!!!!"
"It is so exciting, something new happening every moment, it keeps you transfixed and waiting to see what is going to happen next… presented in such a professional manner. Clear reading and excellent sound effect… I highly recommend this book" said Amethyst Diane Lonigro, a grandma from Australia.
"My daughter is 10 years old and we both really enjoyed the story. She wasn't scared of any parts of it and thought the narrator, music and sound effects were cool… a ton of fun!" exclaimed Canadian mom Susan Comeau-Fyten.
For more information about the audiobook, visit Gorgoretta.com
Release ID: 88980947