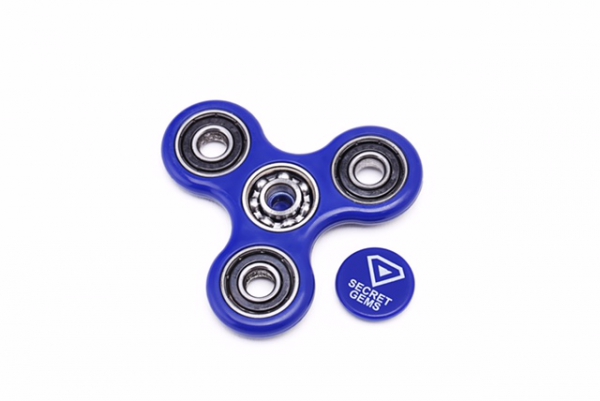 - May 13, 2017 /PressCable/ —
The Secret Gems has announced its best-selling Spinner Fidget Toy known for the smoothest spin in the market and popular among people of all ages looking to reduce stress or anxiety and stay focused at home, in the office or at school, is now available on Amazon.
The fidget spinners are the latest trend hitting offices, homes and school playgrounds across the globe. The small spinning gadgets are becoming a must-have among children, adults and especially stressed out office workers who want to stay focused and alleviate daily stress without all that nail biting or pen clicking.
The most popular and coveted fidget spinner in the market, the Secret Gems Fidget Spinner Toy which offers fidgeters a uniquely durable, ergonomic design for hours of the most smooth, silent and high speed 3+ minute spins at time ideal to relieve daily stress, anxiety or boredom and stay focused at work or compete in the playground, has now been launched on Amazon.
The Secret Gems fidget spinner toy requires no oil or maintenance and contains recently redesigned ceramic bearings which ensure the smoothest spin in the market. It's also made of durable ABS plastic to outlast cheap knockoffs, smaller than a palm to conveniently fit into trouser pockets and silent enough for the most seamless daily spinning at the office or on the go.
More information on the best-selling Secret Gems fidget spinner toy and the uniquely smooth, silent and safe spins which make it popular among fidgeters of all ages along with multiple client reviews on its anti-stress and anxiety benefits are available at the website link provided above along with details on its affordable prices and leading warranties.
The Secret Gems team explains that "this is simply the greatest anxiety and stress fighting accessory for fidgeters. It's perfect to stay calm, stop stressing or work through all those worries and anxieties, stay focused to bring out that creative genius or just enjoy some amazing play time with the kids. It has the smoothest spin in the market right now, no sharp edges like those cheap knockoffs and whisper silent so it's never out of place at home, at work or on the go."
Readers can find their product on Amazon.com where they will get free 2-day shipping on all orders for prime members https://www.amazon.com/Spinner-Fidget-Anxiety-Boredom-Stress/dp/B06XXJQFNG
Release ID: 199281