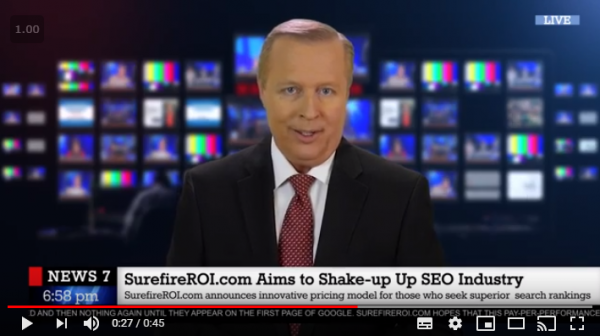 - October 26, 2018 /PressCable/ —
SurefireROI.com, the pre-eminent provider of marketing and SEO services has announced a new pricing model that is sure to shake-up an industry ripe for change. The company is working in partnership with clients in a manner in which both parties mitigate risk and maximize benefit when positive results are attained.
Specific details may be found here => http://surefireroi.com/calgary-seo-services
SurefireROI.com owner Eric Haaranen feels that traditional SEO service providers have been taking advantage of small and medium sized business owners for far too long. SEO providers normally will charge clients a set fee per month in exchange for attempting to get the client's website or Google My Business listing on the first page of Google.
The provider will normally disclose to the client that success in reaching page one is not guaranteed and that the process will normally take anywhere from 3 to 6 months. As a result the client pays the provider on an ongoing basis and more often than not, the page one rankings never occur.
"This is something that has always bothered me about the SEO industry," states Eric Haaranen, the owner of SurefireROI.com. "Traditional SEO providers have always made the client assume 100% of the risk. While risk is inevitable in any marketing effort, I have always believed that business should be conducted more as a partnership in which both parties share that risk."
As a result of this thinking, SurefireROI.com has come up with a unique pricing structure for local SEO services. The client pays a small setup fee to begin the relationship and allow SurefireROI.com to get to work. Then the client does not pay again until the client reaches the first page of Google. Or if the client is already on the first page to begin the relationship they will not pay again until they see an improvement in their rankings.
"By setting things up in this manner, the client's risk is mitigated and both parties stand to benefit when key metrics of the partnership are achieved," explains Haaranen. "As the service provider we're assuming a great deal of the risk as we don't make any real money until the client sees results. We're not aware of any other SEO company confident enough to work in this manner."
The video version of this news release can be found here => https://youtu.be/muQWxhP-Lkg
Small business owners interested in more exposure through Google and other search engines are encouraged to get in-touch with SurefireROI.com.
SurefireROI Marketing Solutions
2000 Citadel Meadow Point Suite 314, Calgary AB T3G 5N5
Phone: +1 (587) 410-4767
Release ID: 432166