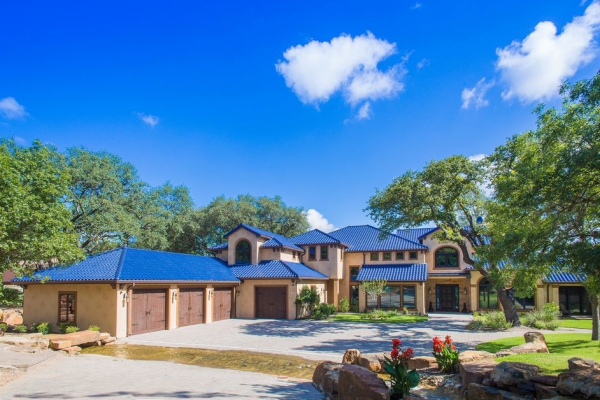 - October 21, 2017 /PressCable/ —
Cactus Companies is pleased to announce that it has received the "Best of Parade" Award for an amazing renovation of a waterfront vacation home in Horseshoe Bay at the Hill Country Builders Association 2017 Hill Country Parade of Homes Tour™ builder awards ceremony in Marble Falls.
The home also received Best Master Suite and Bath, Best Architecture Features, Best Craftsmanship, and Best Outdoor Living awards at the ceremony, which was held on Oct. 10. "We are incredibly pleased to have received such a high honor from the Hill Country Builders Association," Grant Dean, owner of Cactus Companies, said. "Working on this house was such a unique and wonderful experience for all of us. Receiving the 'Best of Parade' Award, along with all of the others combined, was so beautiful. None of this could have worked out as well as it did without the complete support of our entire team at Cactus. Their hard work and dedication are second to none."
This palatial waterfront home's renovation project includes a drive-through cascading river and lighted basketball court. Originally built in 2002, highlights also include a spectacular three-tiered pool with an upper volleyball pool, a 12,000-pound rock waterfall, a walk-in dry cave underneath the upper pool with a swim-up bar grotto under the waterfall. The vacation home compound was expanded by 7500 sq. ft., bringing it to a new total of over 14,000 sq. ft.
Additional features of the award-winning home include:
An expansive 2,300-square-foot glass pool enclosure with automated-opening roof panels and a 22-foot-by-18-foot-high concealed projector screen plus laser projector and sound system; a concealed window-wall system completely opening and connecting the main house great room with the pool area; a custom theater room designed to resemble the movie theaters from days gone by with programmable fiber optic night-sky ceiling; a fully-remodeled kitchen with new cabinetry and marble countertops; a new bar area with a double-entry wine cellar constructed under an existing stairway; the addition of a custom lighthouse feature, built by the owner, with revolving light and spiral staircase to access second level bedrooms from exterior; the conversion of an existing exercise and laundry room into a new master bedroom with an antique stained-glass double door with stone-surround; new master shower and bath areas; a new guest apartment with attached steamboat slip; all exterior floors and decks overlaid with 24 karat pebble finish with custom artwork on the pool deck; a two-story boathouse with 1,800 square feet of a covered deck area that includes two boat slips and a double wave-runner ramp; the addition of a custom stair-grade, groin vault ceiling in the vestibule between the living area and master bedrooms.
Nine homes in Horseshoe Bay, Kingsland and Fredericksburg were judged by a panel of experts on craftsmanship, architecture, design and functionality. They make up the 2017 Hill Country Parade of Homes Tour™.
The parade is open to the public and continues Friday through Sunday Oct. 20-22. Tickets are $10 per person each weekend, and children under 10 get in for free. Tickets are available at each home during Parade of Homes Tour hours as well as online at www.hillcountrybuilders.org
With over 30 years in the business, owners Grant Dean and son Travis continue to expand in order to meet the demand for their complete construction services. Cactus Companies are experts in custom homes, home remodels, and commercial building. They've been in business since 1984, serving the Highland Lakes and Horseshoe Bay areas. Cactus Companies can take any building project from design to completion, providing quality craftsmanship along with helping to make the building experience an enjoyable one.
For more information, visit Cactus Companies' website at cactuscompanies.com or call (830) 693-3286.
About the HCBA
The Hill Country Builders Association (HCBA) is a nonprofit professional member organization dedicated to promoting, advocating, and supporting the building and trades industries. The three HCBA divisions (Marble Falls, Fredericksburg and Kerrville) provide community education programs which focus on industry best practices, career development initiatives and community growth within a ten-county region in the Central Texas Hill Country.
Release ID: 253230