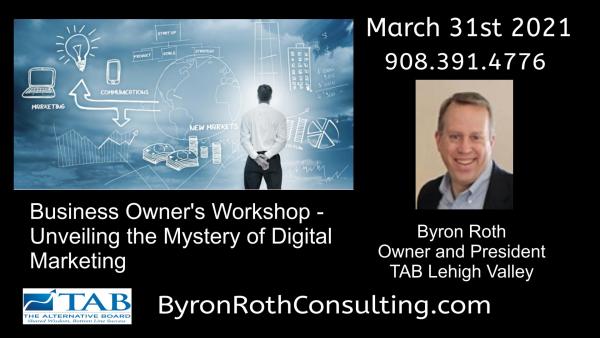 - March 17, 2021 /PressCable/ —
Byron Roth of The Alternative Board Lehigh Valley in partnership with Cooper Marotta of 1st Search Optimization, will offer a business development workshop open to Business Owners, CEO's, Presidents, Partners, and General Managers. The goal is to help shed light on the marketing tactics and spend of each business vs their results as they strive to understand what drives people to make buying decisions. Discussion and questions on the tools and options available to each participating business in the digital marketplace will be encouraged.
The business environment has undergone drastic changes in the last year. This new landscape of business interaction requires the increased use of digital marketing to reach clients as more traditional methods such as networking have been largely shut down due to the covid-19 pandemic. For many this is forging new territory. For others that have been involved in digital marketing the landscape has become very crowded and even more confusing.
During this interactive workshop TAB board facilitator and business/marketing advisor Byron Roth will host a round-table discussion for participants to share their successes, questions, and concerns and learn from the insight and advice of other experienced business owners. 1st Search Optimization owner Cooper Marotta will also be on hand to give insights and answer discussion questions about digital marketing topics such as SEO, Social Media, Video, Amazon, Google Ads, and Youtube.
The Alternative Board (TAB) has been building regional boards of non-competing business owners for over 30 years. Byron Roth's TAB Board members take a break from their businesses once each month, to work on rather than in, their businesses. To attend the event, participants must be a Business Owner, CEO, President, Partner, or General Manager in the Lehigh Valley region wanting to grow their business and value getting advice from fellow seasoned business owners. All industries are welcome.
To accommodate more participants, the event will be held at two different times. The first event will be held by zoom on Wednesday, March 31, 2021 from 8:00 am – 10:00 am. It is free, but participants must register in advance. An online meeting invitation will be sent upon registration. The second event will be live on Thursday April 8th from 12:00 pm – 2:00 pm at the Borderline Restaurant in Bethlehem (2100 West Union Blvd, Bethlehem, PA). Lunch will be provided, and again the event is free, but registration is required in advance.
To RSVP, ask questions, and register for either seminar contact Byron Roth, Owner of Byron Roth Consulting and The Alternative Board Lehigh Valley at 908-391-4776.
Release ID: 89001344