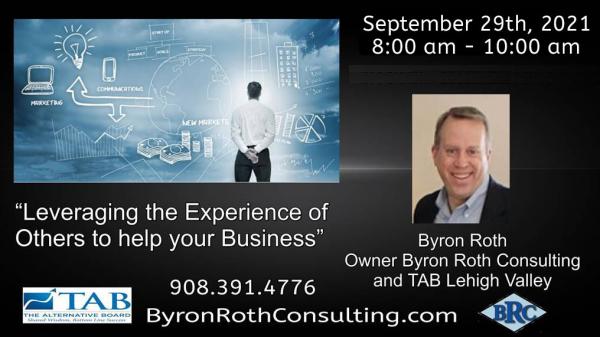 - September 24, 2021 /PressCable/ —
Business owners and CEO's often need experienced advice and help structuring business operations for needed items such as management, HR, marketing, inventory, expenses, etc. To address these needs, Byron Roth will host a virtual peer business advisory board for Lehigh Valley businesses on September 29th, 2021 to help business leaders sustain and grow their companies amidst the problems they face in current market conditions.
Some of the potential topics to be covered will be the following. How to find & motivate a younger more diverse workforce. How to address the skilled labor shortage. Dealing with difficult or problematic employees. Planning and action plans to expand the business. Understanding the process to identify target markets/customers. Developing the appropriate marketing messages to reach chosen markets & customers. Dealing with the effects of commodity price volatility. Commodity price impact on sales and profits. Building and developing an effective management team. Transferring a business to next generation leaders. Steps to better organize a business to increase profitability
When asked about the myriad of issues business owners face, Roth said, "Business leaders shouldn't be trying to go it alone. You need to ask yourself, despite all of your experience and best efforts, how often are you caught off guard in your role as owner or CEO of the business? You can't be an expert at everything. You need quality advice and help from within the company and from outside at times. These are important things to consider when help is needed in a company's business operations."
The business peer advisory board is open to all business leaders. Business owners and leaders in the Lehigh Valley are invited to join this peer style event. The event will be held virtually, and the meeting will be focused on helping business leaders with the pressing issues they may be facing. The meeting will be facilitated by business expert and consultant Byron Roth who is the principal of Byron Roth Consulting and The Alternative Board of the Lehigh Valley.
According to Roth, "Many business owners and leaders struggle to find helpful information, advice, and input to assist them in solving difficult problems they face running their companies. And often they don't know where to turn. Business owners can be inundated with these problems which include finding new customers, retaining clients, delivering goods & services, cashflow shortages, cutting expenses, and dealing with critical other issues daily."
Business owners and leaders are invited to participate on September 29th to discuss and receive fundamental and advanced strategies to manage business operations more effectively. This free virtual event is open to all business leaders and owners interested in learning more about how a peer board can help their business with growth and sustainability.
Those looking to hear from current clients and learn more about Byron Roth including his peer advisory boards, mastermind groups, and business roundtables in the Lehigh Valley can view the following videos for more information https://www.byronrothconsulting.com/client-information-testimonial-video.
To RSVP, ask questions, and register for the event, please contact Byron Roth Lehigh Valley Business Coach and Consultant at 908-391-4776. Direct online registration is available on the following page – Peer Advisory Events by Byron Roth Consulting.
Release ID: 89046693