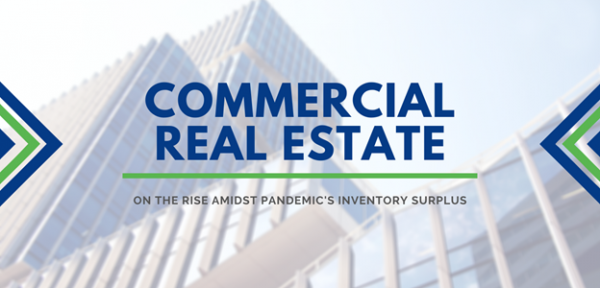 - October 9, 2020 /PressCable/ —
The commercial real estate industry had an estimated $12 trillion in value in 2016, coming in a close third to residential real estate and common stock. Unexpectedly, the pandemic has brought on a new wave of teleworking, and businesses are debating whether to keep their office space or go completely remote. 75% of current teleworkers say they would continue to work from home after the pandemic, but is "working from home forever" really sustainable?
Business owners and executives alike have big decisions to make about the future of their companies. With the current commercial real estate market, businesses can reap the benefits of buying commercial buildings at a reduced price, giving them new opportunities that were once not possible.
The Commercial Real Estate Industry During the Outbreak
Since coming back from the 2008 recession, the commercial real estate industry was booming. According to the 2020 commercial real estate outlook published in 2019, the United States CRE markets were predicted to maintain global attractiveness and continue to see growth.
The industry outlooks have changed since the lockdown in March, and the new market predictions for 2020 and 2021 are looking different. Typically, during a decline in real estate, it takes six to eight months to see the effects, but with the COVID-19 pandemic, the CRE industry took a hit almost immediately. This was because trade activities and occupiers' businesses were shut down.
Even with the disruption transforming how people and companies finance, operate and occupy real estate, companies are still proving that office spaces are not a thing of the past. Amazon bought the Lord & Taylor building on Fifth Avenue and has decided to continue with the office expansion. Other companies are visiting the idea of creating satellite offices or new headquarters outside of the city.
While the commercial real estate industry has changed, experts are not worried about the long-term effects of COVID-19 and believe that the market will come back stronger than ever. The "way forward" for many companies could be owning an office space, providing an excellent investment for business owners and employees.
The Way Forward For Companies
People are more inclined to work from home on a more permanent basis during these times, but once the pandemic is over, people will be more comfortable coming back to the office. Providing an office setting that makes better sense for employees, follows social distancing protocols, and offers a unique culture could benefit companies greatly.
While the pandemic has weakened commercial real estate prices in the second quarter, companies can purchase commercial real estate at a reduced price. According to Real Capital, retail prices dropped 2.8%, and offices fell 0.9%, while hotel prices declined 4.4% in the year through July. There are also many other benefits to buying a real estate property as a company, such as tax benefits, fixed rates, and the ability to build equity.
Investing in a commercial building as a business owner can be one of the best decisions for a company if the proper research and planning are done. Whether a start-up growing from the ground up or an established company is looking to purchase commercial real estate, the critical decision to buy a space can have a great impact on your business's future. And when making this vital decision, Centrust Bank, a bank located in Northbrook, Illinois, offering an array of commercial banking services, has the resources and services available to simplify the process.
With a strong commitment to the real estate industry in local markets, Centrust Bank's customer-focused approach means clients get a dedicated, experienced Commercial Banker – and a single point of contact – to help with all their professional and personal banking needs. Centrust helps business owners purchase, refinance, or improve the real property for their business or investment portfolio.
With enough research and due diligence, purchasing commercial property is a sound investment and provides many long-term benefits for your company
About Centrust Bank
Founded in 2006, Centrust Bank has grown to become a leading Chicago area community bank that helps small to mid-sized businesses grow safely and profitably. Centrust has established itself as a leader in and excels at offering SBA programs for small businesses.
To learn more, or to contact Centrust Bank, please visit their website: centrustbank.com
Centrust Bank is an Equal Housing Lender. Member FDIC.
Release ID: 88980148