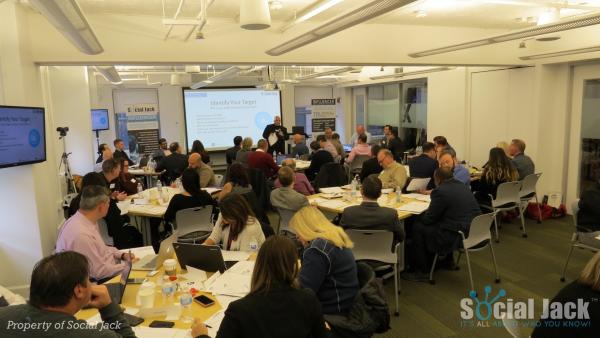 - April 11, 2019 /PressCable/ —
To help current and aspiring speakers and authors develop an online presence with a purpose of increasing speaking fees, Chicago-based Influencer Development Company, Social Jack, will host an exclusive Business Influencer Masterclass.
With the goal of giving individuals the tools to build a successful professional and personal brand, this program will help you get found first, build credibility as a reliable speaker, and establish and build a digital business network.
"The number one request we hear from clients is to help them get more and better speaking opportunities. It all starts with getting found first, in your industry, online," said Dean DeLisle, Creator and Chief Visionary of Social Jack. "We are teaching the same program that we have used to help our clients become business influencers and sought-after speakers."
Through an 8-step system, you will learn the same techniques that have proven successful for thousands of others to generate paid speaking engagements, increased sales, and advance your career in a way that your goals for paid speaking and quality appearances soar.
DeLisle also commented that the two biggest things holding business professionals back from using their LinkedIn profile to gain the right attention is that their story and profile pictures are not currently updated. So, as a bonus, all Masterclass participants will receive their personal brand story pre-written ahead of time by a professional and have the opportunity to take a new and updated head shot at the day of the event.
The Masterclass will be held in Chicago on Thursday, May 30th, 2019 from 10:00 am CDT to 5:30 pm CDT and will include a networking reception after. The class will be taught by Social Jack's CEO, Dean DeLisle, and Influencer Marketing Manager, Cait Hassett at TechNexus in the Civic Opera House. Class size is limited to 50 participants. To purchase tickets and inquire about group discounts, visit www.businessinfluencermasterclass.com.
About Social Jack: The Social Jack System is an Influencer development platform that combines the power of people, social teaming and today's social networks to create Business Influencers and develop a targeted loyal following in order to achieve influence in your world. Social Jack serves organizations, executives, professionals, top producers, speakers, and they even have influencer event offerings.
About Dean DeLisle: As Founder and CEO of Forward Progress, Dean leads his core team to provide digital marketing solutions serving over 2,000 corporate clients for the past 15 years. In 2015 Dean created and released a Business Influencer Development Platform known as Social Jack, and they have successfully trained over 120,000 professionals on Social Selling and B2B Influencer Marketing. Their curriculum and programs are used globally by Fortune 500 companies, Associations, Conferences and Universities to instill best practices related to the effective use of social networks.
About Cait Hassett: Cait Hassett found her passion for marketing after she had the experience of being one of the youngest live radio DJ's in South Georgia. She firmly believes that radio is to thank for the start of Influencer Marketing and has used this experience to help her current roles as Influencer Marketing Manager at Chicago's Premier Influencer Development Company, Social Jack, where her goal is to help take the fear out of social media and enable their clients to become the Influencer that can transform an entire industry.
Release ID: 501459