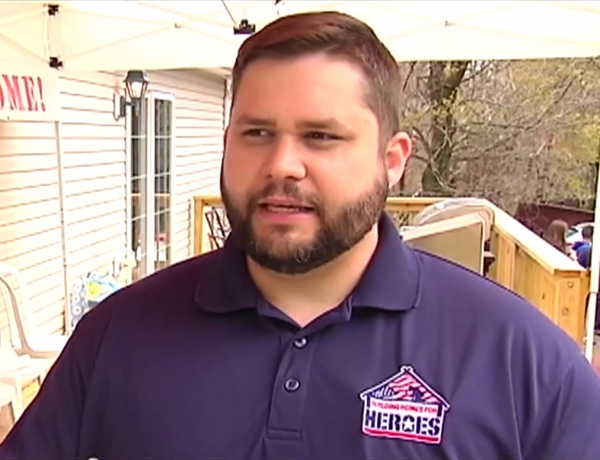 - May 9, 2017 /PressCable/ —
Building Homes for Heroes has partnered with Pocono Home Builder RKA Construction to gift an adapted home to a wounded combat veteran.
U.S. Marine Corps Gunnery Sergeant Chris Claude, his wife and their three children received the home in Long Pond, Pennsylvania, mortgage-free, courtesy of Building Homes for Heroes, on property donated to the organization by JP Morgan Chase.
Pocono Home Builder Robert Ace of RKA Construction was chosen to perform the renovations on the home after he met Gunnery Sergeant Claude at the Greater Pocono Outdoor Home & Living Show at Kalahari Resort and Convention Center in March of 2016. That brief meeting would lead to a relationship neither could have imagined as Ace went to work to build Claude a forever home.
Now a year later in May 2017, RKA Construction has completed a very unique custom home remodeling/building project for Gunnery Sergeant Claude to accommodate his injuries.
On February 20, 2006, Gunnery Sergeant Claude's team was ambushed with explosives while on patrol near Iraqi headquarters in Al-Hindiya. The driver of their Humvee, Staff Sergeant Jay Collado, was killed on impact. Gunnery Sergeant Claude credits Navy Hospital Corpsman, Geoff "Doc" Hunley for saving his life while they waited for a MEDIVAC helicopter to arrive by keeping his femoral artery closed by hand.
At the ER, both of Gunnery Sergeant Claude's lungs collapsed. He suffered from a traumatic brain injury, a multitude of broken bones, and fasciotomies in his left leg and arm which resulted in nerve damage. Doctors partially amputated his left thumb, and they also performed exploratory surgery to remove shrapnel in his abdomen. He was then transferred to Landstuhl Regional Medical Center in Germany, when an infection above the knee resulted in the amputation of his right leg.
After months of recuperating at the Bethesda Naval Hospital and countless hours of physical therapy at Brooke Army Medical Center in San Antonio, Texas, Gunnery Sergeant Claude has battled to find a new life. He now lives in the Poconos with his family. He hand-cycles, kayaks, sit-skis and participates in marathons while mentoring other wounded Veterans.
Gunnery Sergeant Claude's remodeled home features barrier free modifications such as complete wheelchair accessibility throughout the home, two-story elevator wheelchair accessible bathroom with roll in shower, ADA toilets and grab bars, widened doorways that allow for wheelchair access, wheelchair ramp in garage, and an accessible rear deck, ramp, and sidewalk.
RKA appreciates the sacrifices America's military men and women have made, especially those who have been severely injured. "One way to show our appreciation," said Robert Ace, "is to assist Building Homes for Heroes in their mission to provide mortgage free homes to severely wounded veterans." RKA Construction has been asked to work on a second Building Homes for Heroes project in Harrisburg, PA in the Summer of 2017.
Founded in 2006, Building Homes for Heroes builds and gifts mortgage-free homes, and completes home modifications, for veterans and their families, and provides further services along their road to recovery to help them live a promising and fulfilling life ahead. The organization is strongly committed to rebuilding lives and supporting the brave men and women who were injured while serving the country after September 11, 2001, during the time of the wars in Iraq or Afghanistan.
After gifting 28 homes in 2015, Building Homes for Heroes gifted 29 homes in 2016, including its milestone 100th overall home in November. The organization has its sights set on gifting as many as 36 homes in 2017, equal to one mortgage-free home every 10 days. It is the organization's honor to support the men and women who have loyally and courageously served the United States and it's citizens.
To learn more about Building Homes for Heroes, visit http://www.buildinghomesforheroes.org/
Release ID: 195674