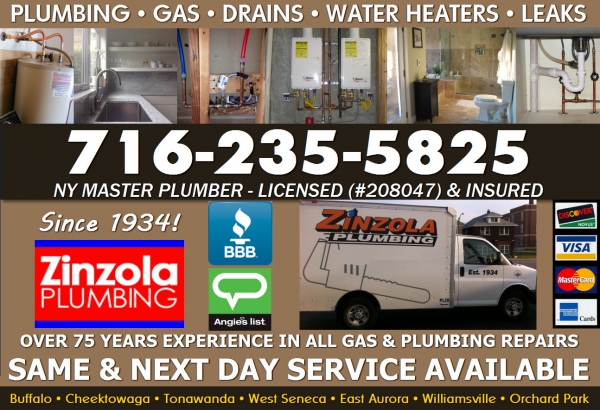 - June 24, 2017 /PressCable/ —
Zinzola Plumbing Services recently expanded its services offered to clients. With new additions to the labor available to customers, the company specializes in plumbing, drain, gas line, fixtures, and water heater jobs. The company serves customers in Buffalo, Cheektowaga, Tonawanda, and West Seneca areas in New York.
For more information on the services offered by Zinzola Plumbing Services, visit https://plumbersbuffalony.net/.
With more than 40 years of experience, the family owned businesses is licensed, bonded, and insured and can be reached 24 /7 for any type of emergency. Zinzola Plumbing recently added to their portfolio of services offered, and can perform jobs that will suit homeowners, landlords, tenants, and businesses in residential, commercial, and industrial categories. Various water services include water fountains, sinks, and basins, water pressure regulators, water lines, shower installations, water mains, and tankless water heaters. Sewage jobs offered are sewer line cleaning or repair, sump pump installation,trenchless sewer repair, and more. Bathroom services include remodelling, toilet repair, handicapped tubs and showers, pipe repair, and more. Additional services include camera and video inspections, icemaker installation, gas stove installation, as well as various other jobs.
For the full list of updated services that the company offers, visit Zinzola Plumbing's online service page: https://plumbersbuffalony.net/services/.
Zinzola Plumbing also offers special deals to its customers. Currently, first-time customers will receive a specific discount off of whatever service needed when they mention the online promo code. Additionally, there is also a new garbage disposal package currently available online. Buffalo MIlitary Veterans are also eligible for specific discounts.
Zinzola Plumbing also offers free estimates by phone or written quotes on premises. Upon calling, customers will consult with a trained plumber who will provide an overview of the work that needs to be done. All repair costs will be discussed prior to beginning any project. When customers call for a service, the company will guarantee same or next day repairs to Buffalo and most of Western New York. All services are competitively priced for small and larger jobs, including small leaks, repairs, and construction.
For more information on Zinzola Plumbing Services, visit https://plumbersbuffalony.net/.
Release ID: 211087