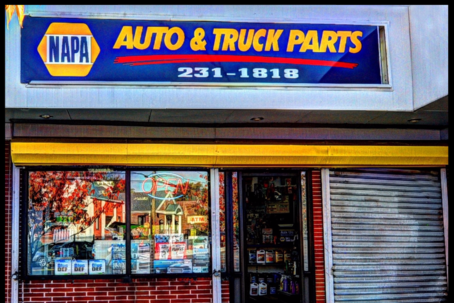 - November 30, 2017 /PressCable/ —
Bronx NY auto parts store, Gun Hill Auto Parts, announced reaching 29 years in business on Gun Hill Road in the Bronx, NY. A local, family-owned automotive parts dealership, the company specializes in hard-to-find domestic and foreign car and truck parts.
More information about Gun Hill Auto Parts is available at http://gunhillautoparts.com/
"It's hard to believe we've been here 29 years already" said Art Templeton, the store's owner. When asked what it's been like doing business in this bustling part of town for so long, he said "The time just flew. There have been local business changes over the years in this part of town, which is called Baychester, but it's remained basically the same. And the people are still as nice as ever."
Things haven't always been perfect, of course. The "big box" auto parts stores have moved in close by and created a challenge for the family-owned business. Still, the store is a vital part of the automotive aftermarket auto parts business in the Bronx. It sells everything from exhaust systems, to brakes, tune-ups, wiper blades, anti-freeze and everything in between.
The aftermarket automotive market in New York has seen gradual yet steady growth over a five-year period. The 2-billion dollar market is distributed across large automotive chain stores and specialized aftermarket & custom parts stores. Gun Hill Auto Parts focuses on helping customers get automotive and truck parts that are difficult to find, and strives to surpass customers' expectations with great service.
Market research about the automotive parts sector in New York has identified effective distribution and a loyal customer base as key contributors to the success of the industry. Gun Hill's team of automotive parts experts focuses on retaining and developing customer relationships through the efficient distribution of competitively priced parts.
Gun Hill Auto Parts is a member of the National Automotive Parts Association (NAPA), a nationwide retailer's cooperative. The firm retains independent control of its operations under the quality and service guidelines of the association.
According to a spokesperson for the Bronx auto parts dealership, "For 29 years, Gun Hill Auto Parts has been a family-owned business that has weathered several challenges including crises in the financial and automotive industries, yet continue to serve the community enthusiastically. Our love for the Bronx and its people is reflected in the way we treat people."
Headquartered in the Baychester area, Gun Hill Auto Parts is a family-owned and operated automotive spare parts dealership specializing in both typical and rare auto and truck parts. More information is available over the telephone at 718-231-1818 or at www.GunHillAutoParts.com.
Release ID: 266452