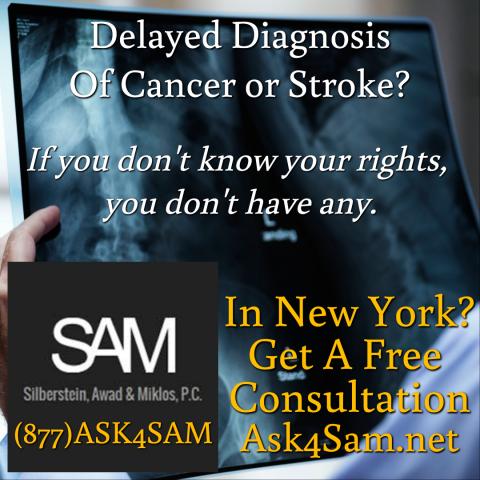 - June 19, 2018 /PressCable/ —
Specialists in medical malpractice, The Law Firm of Silberstein, Awad, & Miklos (SAM) has announced that it can help clients get the best results for delayed diagnosis of cancer. They service clients in New York City, including the boroughs of the Bronx and Brooklyn.
Information can be found at: https://ask4sam.net/faq/medical-malpractice/
On average, around 12% of cancer cases are misdiagnosed initially, and this can lead to serious delays in treatment which can result in cancers that become untreatable, and which can in turn lead to serious complications, and even charges of "wrongful death."
In New York State, generally a patient has 2 ½ years from the date of the last negligent event to begin the process of a lawsuit, but this window can shrink to under a year for hospitals operated by the State of New York. This can leave most people in dire straights to know what their rights are and how to act upon those rights. To help speed this process up, the Personal Injury and Medical Malpractice Law Firm of Silberstein, Awad, and Miklos, P.C. is offering 100% free phone consultations to any persons who believe they have been the victims of any kind of medical malpractice, in particular those who have had a delayed cancer diagnosis.
Delayed Diagnosis cases can be incredibly complex, and a delayed diagnosis can result from a variety of factors, including a failure to perform the appropriate tests, misreading of those tests, malfunctioning technology, errors in reading x-rays, problems with laboratory work, misinterpreted results, failure to recognize a tumor, and failure to refer a patient to a correct specialists.
Individuals who believe that they have suffered from a misdiagnosis or delayed diagnosis of cancer should contact an attorney immediately. The Law Firm of Silberstein, Awad, & Miklos, P.C. can be reached directly and potential clients can often speak with an attorney the same day at no cost. The Law Firm of Silberstein, Awad, & Miklos (SAM) has a dedicated line: 1 (877) ASK-4SAM (275-4726), and interested individuals can also contact them via their website: https://ask4sam.net/contact/ They have 6 locations around the New York Area.
Release ID: 361813