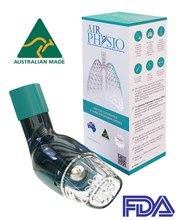 - September 23, 2021 /PressCable/ —
AirPhysio has won multiple awards for its results-backed solutions for asthma and COPD. Now, through the latest expansion to the online store, more families across the country can get the breathing aid they need.
More information can be found at: https://media.lifewellnesshealthcare.com/3tf7FxK
The AirPhysio OPEP device uses oscillating positive expiratory pressure to stimulate the body's natural cleaning processes. Following the latest move from Life Wellness Healthcare, customers can dramatically reduce mucus buildup and strengthen their lungs.
Most respiratory conditions hinder the body's ability to clear mucus. However, the OPEP product is designed to naturally loosen the bond of this mucus on the airway walls. The substance can then be pushed up to the top of the lungs and expelled.
One of its most common use cases is for patients with bronchiectasis. Patients with this disease are likely to experience shortness of breath, fatigue throughout the day, and may cough up mucus on a daily basis too.
Lung disease can have a severe impact on a patient's daily life and workflow, so seeking a natural solution is often a top priority. Life Wellness Healthcare now provides more patients with easier access to a reliable and proven solution.
Because the device is lightweight and handheld, it's an effective, drug-free solution to customers' breathing issues. AirPhysio can be carried on journeys, and easily fits inside bags and purses.
Customers just have to exhale through the device for up to five minutes at a time to see effective results. They can use it one to three times per day as required, depending on their condition and their unique needs.
Life Wellness Healthcare has established itself as a prominent name in the respiratory health industry. The online store offers a variety of options for those with breathing conditions that hamper their everyday activity.
A recent customer said: "I just got it today and tried it out. Within a few minutes, I had coughed up mucus. I have year-round allergies, and some years are better than others. I am happy with the product so far."
Interested parties can learn more at: https://media.lifewellnesshealthcare.com/3tf7FxK
Release ID: 89045540