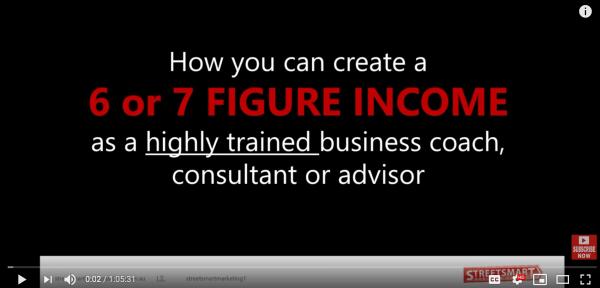 - April 11, 2019 /NewsNetwork/ —
Streetsmart Business School has announced the launch of a new online video webinar and course that can teach participants how to create their own business coach business. For anyone who has always loved the idea of being a business consultant, it is an easy way to learn key skills and develop a plan for success.
More information can be found at: https://streetsmartbusinessschool.com.au
The site explains that the course has already helped aspiring business coaches from all walks if life to create a successful coaching business regardless of their age, background or education.
Streetsmart Business School is run by Ian Marsh, who has spent the last 19 years building five different multi-million dollar companies in different industries. Now he's using that knowledge to help other business consultants and aspiring business coaches to transform their lives.
He teaches business school students how to build effective online and offline lead generation, sales and operating systems. He has also helped business owners to improve their company and online presence through implementing his Streetsmart Strategies.
The company was founded on the principle that anyone can become the owner of a profitable, stable and secure business. Now aspiring business coaches can benefit from the experience of the team to learn the skills and techniques they need to help other businesses grow, succeed, and develop.
There are a number of benefits to being a business consultant. For example, there is a huge amount of flexibility in the work hours that someone can take, because they are their own boss.
There is also the possibility of working from home, and business coaches are able to choose their own clients at a pace that suits them.
Because of the nature of the work, business coaches will be able to use their problem solving skills and enjoy a challenging, exciting role. It also means they are likely to be continually learning, which can be an invigorating experience.
Anyone looking to learn the skills they need to become a business coach can find out more by visiting the URL above.
Release ID: 501487