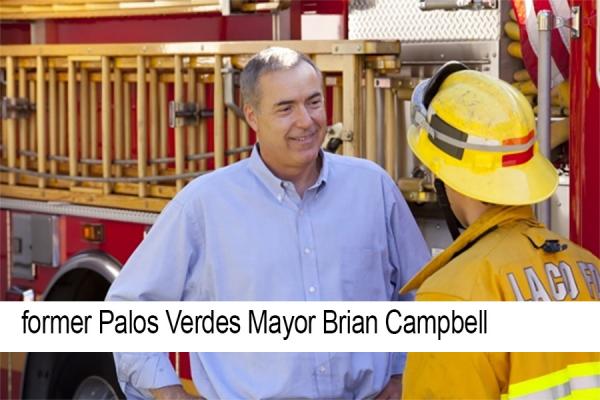 - November 21, 2020 /PressCable/ —
Current Palos Verdes Library Trustee and former Rancho Palos Verdes Mayor Brian Campbell has announced the launch of his personal blog. Campbell's new online hub will focus on local government issues and the challenges of national guardsmen and reservists balancing their civilian lives with military service.
In addition to his elective office experience, Brian Campbell is also a Major in the California State Guard with over 20 years of combined service in both the regular army and reserves.
Brian Campbell served 8 years on the Rancho Palos Verdes city council in total, and served twice as vice mayor and once as mayor.
As a current Palos Verdes Library District trustee, Campbell is focused on safely re-opening the library district facilities to the public within the state Covid guidelines, reducing usage costs to the public, increasing community outreach to expand the number of residents using the library and continuously upgrading the district's technology to expand the internet streaming delivery of movies, books and research capabilities.
In a recent one-to-one interview, Campbell reminisced on past achievements which led him towards his present day elected office. Notably, one of his proudest was during his tenure as an elected mayor and councilman for Rancho Palos Verdes that included significant local fee and tax deductions for the approximately 43,000 residents. Additionally, Brian achieved transparency for the employee union negotiating process and greater oversight of the Palos Verdes city managers office..
In the same interview, Campbell stated his intentions for the future. The primary goal for the next 12 months, Campbell states, will be to increase service levels for the Palos Verdes Library system. Looking farther ahead, Brian's ultimate goal for the future is to leave the Palos Verdes Library system on much sounder financial footing with improved access for the local community.
When asked more personally about how he wants to be perceived and remembered, Campbell said: "I want to be remembered as a committed advocate for the amazing city of Rancho Palos Verdes and its residents and also for its public library system."
In launching the new site, Campbell seeks to give back to the community by providing more transparency to readers about how local government works and also giving advice to citizens considering public service in an elected position.
Campbell's new website also seeks to provide valuable links to resources and tips for California state and national guardsmen and reservists who have been bearing increased service loads as the U.S. Military expands the roles of its part-time service men and women.Brian Campbell
Further information can be found at http://www.briancampbellpalosverdes.com
Release ID: 88986568