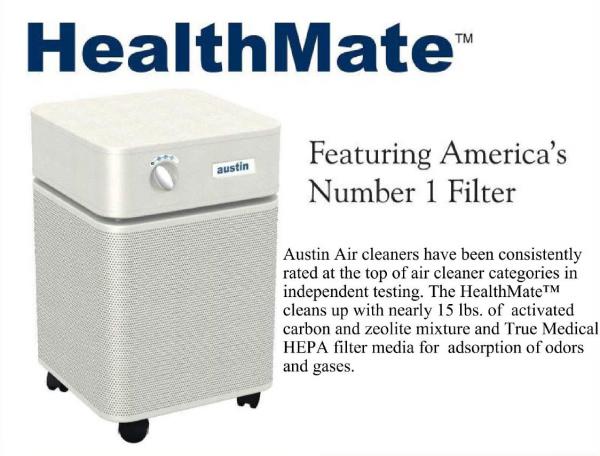 - April 18, 2020 /PressCable/ —
Clean air is a basic right.
The outdoor air quality varies and depends on things such as emissions from industries and traffic exhaust but on the other hand indoor air can be five times more polluted. Austin Air Systems is helping people to breathe in clean air. We know that you have many choices available in the market. So the question is why you should choose an Austin Air purifier? The answer is because we are the only manufacturer that has clinically proven air purifiers made in the U.S.A. We are manufacturing purifiers from the last 30 years for our customers to provide them a fresh and healthy environment to live in. Now we are introducing these two amazing products that are suitable for your workplace or home.
· Austin Air HealthMate Air Purifier
· Austin Air HealthMate Junior Air Purifier
HealthMate is efficient and gives you more control over your home air quality. It uses a three-stage filtration process to help capture particles, odors, chemicals, and smoke. It is perfect for families who are looking for protection from everyday indoor pollutants.
HealthMate Junior is specially designed for the people living in smaller spaces. It removes all airborne particles, hazardous chemicals and gases, odors and will significantly improve the quality of air in your home. It is great for small rooms to clean air that's virtually free of allergy and asthma triggers. We are also investigating, how we can produce air purifiers that can help to reduce asthma symptoms in children in collaboration with the University of Washington.
Over recent weeks as COVID-19 continues to spread to countries across the world, we are all concerned about the health of our loved ones, particularly if they are elder or have ongoing health problems. Our air purifiers use HEPA technology to remove 95% of pollutants as small as 0.1 microns. The COVID-19 virus is at 0.12 microns in size. So we can say that these two air purifiers can effectively remove the vast majority of the virus when it is airborne. But the virus can also be spread via surfaces and human contact. Therefore, it is vital to wash your hands regularly and practice social distance.
We have worked with some of the country's leading institutions. The US government extensively tested Austin Air purifiers alongside more than 1000 others. The test confirms that our purifiers are most effective and remove harmful chemicals better than all other purifiers. Well known hospitals in the USA selected Austin Air Systems to take part in a successful clinical trial that soon led to even more tests.
If you're worried about the air quality in your home, then try these two highly recommended products that are designed to remove all the pollutants as well as dust, VOC's (Volatile organic compounds), viruses and bacteria. Running an Austin Air Purifier in your home will ensure the air is clean, safe and pollutant-free.
For more information on other models that can help you to breathe pure air, please visit buynowpros.com.
Release ID: 88954014