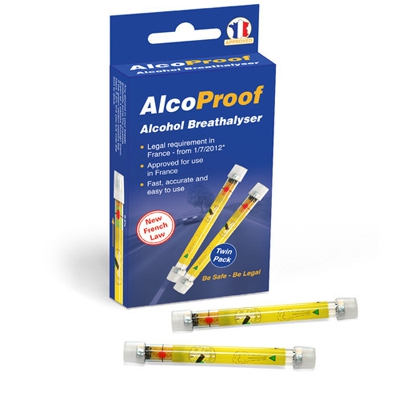 - August 30, 2016 /PressCable/ —
An interesting statistic a few years ago showed that road deaths and serious injuries in France were approximately three times those of England or Germany per 10 million kilometres driven! The French Government rightly felt this was unacceptable and set about a campaign to reduce these horrifying numbers. There are three strands to this campaign including: increased seat belt usage, reduced speeding offences (by upping the number of speed cameras), and reducing the acceptance within France that drinking is part of the culture, irrespective of whether you plan to get behind the wheel of a car afterwards or not!
The introduction of a law requiring all vehicles to carry approved disposable Breathalysers has been a mainstay of reducing the drink driving problem, the idea being to generate a greater degree of social responsibility and prevent the age-old caveat of not being able to test oneself for alcohol levels! UK drivers visiting France need to be aware that the drink driving limit is lower on the Continent (0.5 vs UK 0.8) and that this law also applies to visitors, so they will need to make sure they are equipped with a twin-pack of NF Approved Breathalysers for their trip. 'Alcoproof' – English Language Breathalysers, produced in the dedicated French factories, are available on all ferries leaving the UK, as well as key Service Stations on the arterial roads heading towards the Ports and Eurotunnel, allowing drivers to have a relaxing holiday whilst ensuring they are not becoming a drink driving danger to other road users, or themselves!
In order for British drivers to remain safe and legal whilst travelling through France they must ensure they are carrying a NF Approved Breathalyser, despite contradictory and misleading media coverage breathalysers are still a legal requirement in France. Breathalysers can also be found online at http://travelspot.co.uk/product-breathalyser.html.
Release ID: 130252