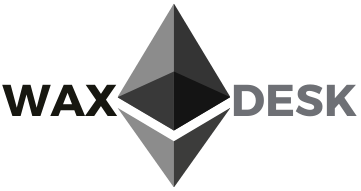 - January 14, 2022 /PressCable/ —
January 1st, WaxDesk.com introduced a new website to help experienced and beginner crypto enthusiasts cut through the clutter and gain access to the most important breaking crypto news focused on the WAX Blockchain. Founded in 2017 by William Quigley and Jonathan Yantis, the WAX platform is widely regarded as the world's premier blockchain for collectibles, NFTs, and video games. World Asset eXchange (WAX) is an environmentally friendly, purpose-built blockchain designed for dApps (decentralized applications), NFTs, gaming, virtual worlds, and collectibles. Creators are able to create, launch, and distribute NFTs on a global scale through the WAX blockchain.
Highlights from today's announcement include:
– New Breaking Crypto News Site focused on WAX Blockchain – Recently launched, WaxDesk.com is dedicated to providing the latest updates, information and education about the Worldwide Asset eXchange (WAX) purpose-built blockchain and protocol token.
– Best Source for latest WAXP, Metaverse, NFT and Crypto Information – This site updates the latest information on each of the related topics, as well as providing the latest analysis and price forecasts of WAXP.
– Is Metaverse coin WAX (WAXP) is worth adding to a crypto wallet. – This site's latest article discusses 10 Metaverse coins and tokens that are predicted to perform well in 2022. https://waxdesk.com/top-10-metaverse-coins-to-invest-in-2022-interactivecrypto-interactivecrypto/
When asked about the reason behind the launch of WaxDesk.com an Editor at WaxDesk.com said, "There is a recognized need for a comprehensive online source of information about the WAX Blockchain and it's influence on key components of crypto like the Metaverse, NFTs and other digital collectibles."
When asked about the it's latest featured article, an Editor at WaxDesk.com said, "Anyone interested in a better understanding of the Metaverse coin/token marketplace will benefit from the insights provided in the latest article. It's easy to explore each of the 10 coins selected in this article. The provided information helps readers decide if Metaverse coins are worthy of a place in their crypto wallet."
Any questions can be answered by going to the company website, https://www.waxdesk.com or contacting them directly at waxdesk2022@gmail.com.
Disclaimer: The information provided on this page does not constitute investment advice, financial advice, trading advice, or any other sort of advice and it should not be treated as such. This content is the opinion of a third party and this site does not recommend that any specific cryptocurrency should be bought, sold, or held, or that any crypto investment should be made. The Crypto market is high-risk, with high-risk and unproven projects. Readers should do their own research and consult a professional financial advisor before making any investment decisions.
Release ID: 89059957