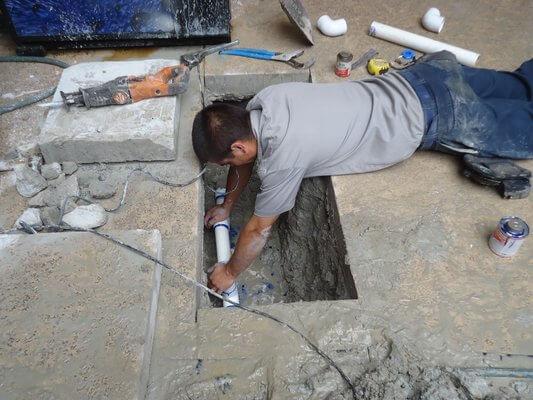 - February 4, 2022 /PressCable/ —
With more than 30 years of experience in the Orange County area, Suburban Plumbing is focusing on enhancing its slab leak repair services offerings in 2022, its representatives regularly stressing to customers and the local community at large how undetected slab leaks will cause damage to a home's foundation. Adding to that, the company adheres to the fact that when a leak occurs, the water will generate pressure that can actually move the foundation of a house.
"A slab leak – which can occur when a water pipe that runs under a basement or floor of a home develops damage – can quickly escalate into a nightmare of a plumbing emergency for a homeowner, and, what's worse, it's often difficult to detect and precisely locate the leak source," says Johnnie Maynard, owner, operator and master plumber of Suburban Plumbing. "Our company is kicking off this new year by making a commitment to provide customers with the leak detection and slab leak services they deserve, so they don't have to suffer the inconvenience of their home being severely damaged by water."
For more information visit https://suburbanplumbingoc.com/slab-leak-detection-repair/
According to experts like Suburban Plumbing's Maynard, undetected slab leaks that aren't addressed and repaired on time can damage an entire house, and if a property is more than 30 years old, say Suburban reps, it is recommended that homeowners stay vigilant about slab leaks. Neglecting to do so can cause irreparable damages, so it's important that homeowners don't focus on saving money in the short term by forgoing timely repairs; rather, say Suburban Plumbing representatives, they should value the long-term sustainability of their property with frequent and timely repairs.
To this end, the Westminster-based plumbing services contractor advises customers to look for specific signs to determine the possibility of this type of plumbing problem, a list that usually encompasses sudden spikes in the water bill, damp flooring, warm areas of flooring, mold and mildew growth in flooring, decrease in water pressure and sounds of running water when no water is on.
"When an under-floor leak is occurring, these signs should alert homeowners to call a professional right away for slab leak detection," adds Maynard. "Suburban Plumbing boasts the equipment and skills to precisely pinpoint the problem so a home does not have to be ripped apart to find the source of the pipe leak.
"We often tell prospective customers to search for slab leak repair near me, because Suburban is the top pick in the Huntington Beach and Brea area all the time."
In firming up its commitment to enhance its slab leak repair offerings in 2022, Suburban Plumbing reports its technicians are wholly dedicated to taking systematic steps – an approach that the company says ensures the problem is properly diagnosed and fixed. To begin with, the Suburban techs determine the layout of the pipes so they can begin the process of pinpointing the damaged area, and once this is established, they use special microphones that allow them to hear the leaking water deep within the flooring.
From there, they use pressure sensors to help them determine changes in pressure and temperature in the foundation before utilizing cameras that allow them to see inside the pipes without tearing up the floor and exposing them.
Suburban Plumbing is a licensed, bonded and insured plumbing contractor that can handle anything from slab leaks to trenchless sewer repair, commercial plumbing, water heater repair, general plumbing repairs and all manner of residential plumbing jobs. The plumbing company's operation network encompasses Westminster, Huntington Beach, Anaheim and most Orange County communities.
The business is located at 14933 Adams Street in Midway City, and customers who need a slab leak repair near me approach can reach the company by calling (714) 922-3555. For further information visit the above cited website.
Release ID: 89062744