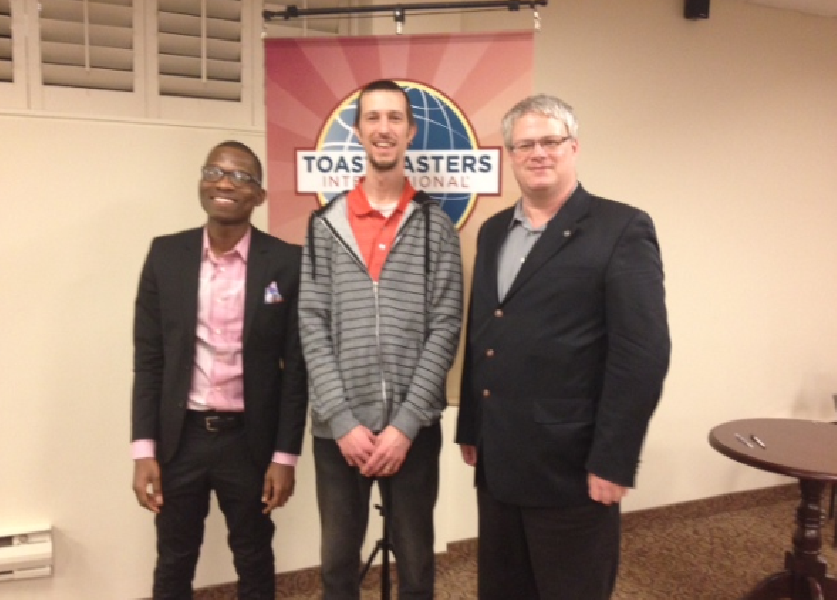 - March 17, 2015 /PressCable/ —
Public Relations Executive, Philip Mutrie of Brant Toastmasters is honored to announce the 1st place winner to the Toastmasters International Area 51 Speech Contest.
Visit the Official Brant Toastmasters website here.
When it comes to the art of public speaking in the professional world, Brant Toastmasters own Derek McGrattan not only has the ability to influence a passionate crowd with an upstream, motivational, moving speech; he has the ability to conquer a rewarding 1st place standing in the Toastmasters International Area 51 Speech Contest.
During an exclusive interview, McGrattan quoted, "Contests always inspire me to bring out my best to inspire others and inevitably overcoming the challenges that life presents before and time and time again, proving to myself that I for one can do this."
As an added tip of the iceberg, McGrattan not only landed the 1st place standing to the Area 51 Toastmasters International Speech Contest, he nailed the honorary Golden Toaster which now resides within the Brant Toastmasters Club 2580 home base.
During an exclusive interview, Mutrie, Public Relations Executive quoted, "Derek McGrattan is one of the most inspirational public speakers I have ever seen when it comes to inspiring and motivating a passionate room. He is truly one who really takes pride in expressing his expertise in technique, confidence, and passion; all important skills that any public speaker need possess."
When approached to winning the Golden Toaster, McGratten Quoted, "I am proud to be bringing home to Golden Toaster to our Brant Toastmasters home club. We at Brant Toastmasters are a firm believer in leaving no one behind and I hope the Golden Toaster inspires our members to continue to strive for their very best in public speaking."
As part of their ongoing efforts to provide the best information to the public, Brant Toastmasters provides a supportive and positive learning experience in which all members and honored guests are empowered to develop communication and leadership skills, resulting in greater self-confidence and personal growth.
Brant Toastmasters is honored to announce their welcoming to any interested individual seeking a true solution to empowered development in communication and leadership skills by attending their local club meetings every Monday evening at 7:30 pm located at Charlotte Villa Residence, 120 Darling Street, Brantford, Ontario.
In addition to Brant Toastmasters, Toastmasters International supports all interested individuals wanting to be an honored guest by providing 14,650 clubs in 126 countries that make up a world leader in global networking meeting locations.
To get more information about Brant Toastmasters, visit their alternative website here.
The Brant Toastmasters press release was brought to you by Philip Mutrie Network.
Philip Mutrie Network was founded in 2007 and serves the Internet Marketing industry and to those seeking online success solutions. Philip Mutrie Network is a company structured and dedicated to assisting individuals to achieve financial freedom, joy, happiness, and ongoing achievement.
To get more information on Philip Mutrie, visit the Philip Mutrie Network motivational and inspirational stories website here.
Release ID: 77073