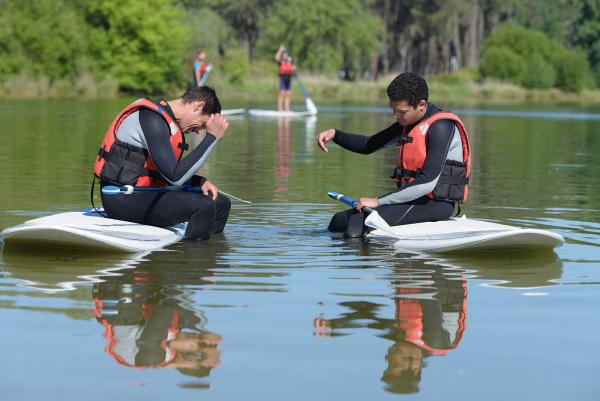 - April 20, 2021 /NewsNetwork/ —
Talkin Adventures have updated their activity offer with the announcement of the long awaited restart of watersports activities. The Talkin Tarn based outdoor activity organiser branch of Independent Adventure is pleased to now offer stand-up paddleboarding lessons and sessions.
For more information please visit https://www.independentadventure.co.uk/talkin-adventures-cumbria
With the launch of stand-up paddleboarding (SUP) Talkin Adventures is looking to instruct small groups in a secure hygienic environment, away from the busy crowds of the Lake District. Independent Adventure's experienced staff, working at the Talkin Tarn venue, are fully qualified to instruct groups in their newest activity, in addition to canoeing, kayaking, archery, and orienteering.
Private SUP sessions can be arranged for groups of up to 5 participants. At the moment the activity can only be offered for small groups and families. The Talkin Adventures team look forward to opening up fully, in the near future, as this activity will be a great addition to hen parties, stag events and team away days. SUP can be incorporated with other activities at Talkin Tarn, or brought to other venues for convenience. To book a SUP session or one of their other out door activities, visit their booking page here: https://www.independentadventure.co.uk/talkin-adventures-cumbria/talkin-adventures-upcoming-events
Talkin Adventures' private SUP lessons use high-quality, stable, inflatable paddleboards and trained instructors. They aim to have guests on the water and standing up in no time. The program is open to visitors over the age of 12. Young adults under the age of 18 must be accompanied by an adult to be on the water. For safety, buoyancy aids must be worn at all times.
As well as various sports and water activities, Talkin Tarn has beautiful landscapes perfect for anyone looking to take a relaxing stroll. At the nearby lakeside cafe and restaurant, those wishing to take a break, or enjoy the scenery less actively, will find a cheerful environment well stocked with tea, coffee, and cake.
To book a private session interested parties can contact Talkin Adventure via the booking link above. If customers have any questions staff are available to answer your water sports activity queries at 01697 508295 to help plan an excursion when full operations resume. Now that restrictions have eased slightly, their online booking system is available once more to book individual places or a small group session.
For those seeking instruction in other water sports and activities, Talkin Adventure offers courses in open canoe, sit on top kayak, and stand-up paddle-boarding. Successful completion of which includes a British Canoeing Certification. Also available is the British Canoeing Foundation Safety & Rescue Training course, covering a range of safety and rescue skills in a wide variety of craft.
Interested parties can find more information about stand-up paddleboarding at https://www.independentadventure.co.uk/outdoor-activities-cumbria/stand-up-paddle-boarding
Release ID: 89006026