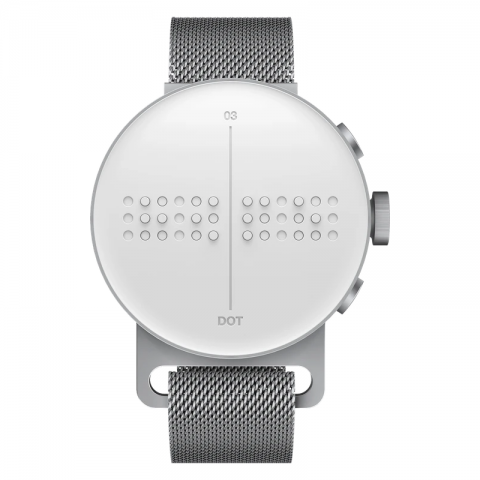 - December 14, 2020 /PressCable/ —
The innovative Dot Watch, which is the world's first Braille smartwatch, has been featured in major publications for its cutting-edge features. Techwiser and AppleViz highlight its one-of-a-kind feature set, which differentiates it from other products on the market.
More information can be found at: http://www.dotincorp.com
The newly released reports highlight that the Dot Braille smartwatch is an affordable, practical device that can improve the lives of visually impaired customers in a number of ways.
Many sight-assist tools that are currently on the market are sound-based. If users are in a public space, the people around them will also hear what's going on, which can feel invasive to privacy.
Contrasting this, the new smartwatch is Braille based, meaning users can communicate with others privately. Since the smartwatch also functions as a mobile Braille dictionary, users can also use it to communicate with blind people.
The company conducts continuous research to make the most innovative devices on the market. The Braille Watch is designed to help visually impaired customers to get the necessary information more easily, conveniently, and quickly.
With technology adapting and changing year on year, those who are visually impaired find themselves left behind by some of the latest advances. While smartphones offer accessibility features to make them easier to use, the devices themselves have not been created with visual impairments in mind.
This is where the Dot smartwatch is unique and represents an exciting entry into the market. With a sleek, modern, and elegant design, the watch offers visually impaired customers a new sense of time.
With the Dot Watch, customers are able to experience time without sound. Each Braille watch provides the wearer with direct access to all the practical features they need throughout the day. This includes the time and date, an alarm clock, timer, and stopwatch.
Further details can be found at https://www.youtube.com/watch?v=2ax-NG-YVGw
While the display has a minimalist aesthetic, users can tell the time down to the second. The leading Braille technology also allows customers to tell who is calling without them needing to see it.
When the customer receives a call, the watch vibrates and displays the name of the caller. This allows wearers the freedom and flexibility of knowing ahead of time whether it's their friends or family calling. If it's an unwanted call, they can simply decline.
A recent report stated: "Dot Watch doesn't compromise on the build quality and offers useful functions which makes it an easy sell. In case you resonate with the features offered by the Dot smartwatch then you should definitely check it out as it surely lives up to its claims."
Full details of the newly launched watch can be found on http://www.dotincorp.com. Interested parties can also find out more at: https://youtu.be/kpzwuKbwcAQ
Release ID: 88989633