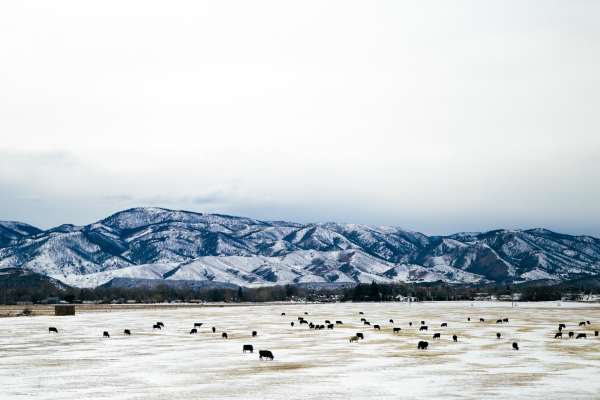 - March 23, 2017 /PressCable/ —
Venture West Ranches, a Montana farm and ranch brokerage based in Bozeman and Three Forks, Montana, have released a report on the latest Montana bull sales. This report focuses on bull sales at some of the best Montana cattle ranches and summarizes the overall health of local ranches and cattle prices.
More information is available at http://www.venturewestranches.com.
With beef prices down, Venture West Ranches released their new report that generated the general feel of the industry and summarized the market for both buyers and sellers. By attending three top-class Montana bull sales – Sitz Ranch in Dillon, Holden Herefords in Valier, and Cooper Herefords in Willow Creek – Buzz Tatom, sales representative and partner at Venture West shares his experience. Consequently, the report is an informed opinion about the state of the market, and just who is buying top-grade bulls.
An example of bull sales covered in the report is the Sitz Angus Ranch…one of Montana's finest Black Angus breeders. This ranch provides bulls for commercial cow herd and seed stock. At their auction, the average bull sale price was $6,140. High-end bulls sold for $50,000 with a 1/3rd interest retained. Over 30 bulls sold for under $3,000. Excellent value for a Sitz bull at that price. Lots of options for Black Angus breeders and the cattle prices seemed to affect sale prices.
Montana, also, has two of the top Hereford breeders in the country so VWR decided to see what happened in Line 1 Hereford auctions. In comparison to Black Angus bull sales covered in the report, the Hereford bull sale at Holden Herefords and Cooper Herefords fetched higher prices. The average bull price at Holden Herefords was $10,610 with a high of $85,000 and a ½ interest retained. Lower priced bulls sold in the $4,000 range with a very few going in the $3000 range. Cooper Herefords sold for an average of $10,966. The highest price fetched was $155,000 with unknown interest retained. Lower price bulls had a few selling into the $3000+ range. There were excellent values in both sales.
Venture West Ranches, is a ranch brokerage that helps clients buy and sell ranches across Montana. With sales representatives from ranching backgrounds, Venture West Ranches knows and understands these significant properties and are proud to represent generations of work.
When asked about the report, author Buzz Tatom said, "My impressions from these auctions are that the bidders and sellers who attend these sales are some of the best-capitalized ranchers in the business and they are using this downturn to upgrade their herds with excellent genetics."
To find out more about Venture West Ranches and their latest bull sales report call 406.522.9378 or visit http://venturewestranches.com.
Release ID: 179475