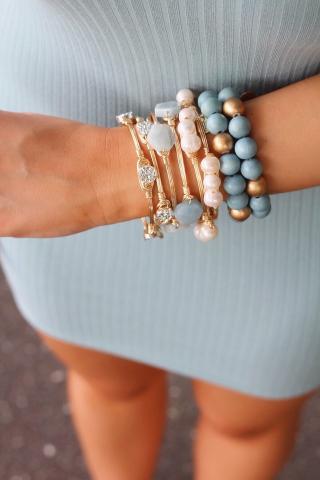 - October 23, 2019 /PressCable/ —
Hand-crafted jewelry line, Bourbon and Boweties, announces the release of its 2019 Fall Collection. From unique earrings and the popular stretchy stack bracelets to turquoise rings and bolo tie necklaces, there is something for every wardrobe to make a statement this fall.
Whether customers are seeking a bohemian chic vibe or classically beautiful accessories, the 2019 Fall Collection has the jewelry pieces to enhance any fashion preference. The just-released product line offers distinctive accessory options different from the standard jewelry available on the market today, so customers can choose pieces that set their looks apart from the rest.
Products include turquoise rings, adjustable bracelets, stretchy stack bracelets, beaded bracelets, and a wide range of necklaces in various lengths, from bolo necklaces to chokers. With many color, bead, and style options, the Fall Collection meets the demand for the highest quality hand-crafted jewelry at an affordable price.
Bourbon and Boweties Owner and Designer Carley Ochs researches and follows the latest trends to keep her local and national customers in high fashion each season of the year.
"I pay close attention to style trends and design the jewelry pieces I know my customers love to wear," said Ochs. "When my customers wear one of our hand-crafted jewelry items, I want them to feel like a million bucks, without having to pay a million bucks, and this gorgeous 2019 Fall Collection definitely delivers."
Ochs started hand-crafting jewelry in 2012, with the help of her mom. Pieces are still hand-crafted in the Tampa Bay Area of Florida. She began by selling her jewelry designs through small boutiques and since then has secured successful partnerships with small boutiques throughout the United States, plus Lilly Pulitzer, Nordstrom, Bloomingdale's, and Von Maur.
"We continue to grow as a company because we take the time to know and listen to our customers," said Ochs. "The Bourbon and Boweties 2019 Fall Collection is a direct representation of our customers' appreciation of unique hand-crafted jewelry, the latest in fashion, and smart budget sense."
About Bourbon and Boweties
Bourbon and Boweties is a hand-crafted jewelry brand in the Tampa Bay Area of Florida. Jewelry is hand-crafted by Tampa Bay Area residents. Ochs' company has secured successful partnerships with small boutiques all over the USA as well as with Lilly Pulitzer, Nordstrom, Bloomingdale's, and Von Maur. Bourbon and Boweties is proud to offer timeless, fashionable, and affordable jewelry that will forever be made by proud southern hands. To learn more, visit www.BourbonandBoweties.com.
Release ID: 88930153