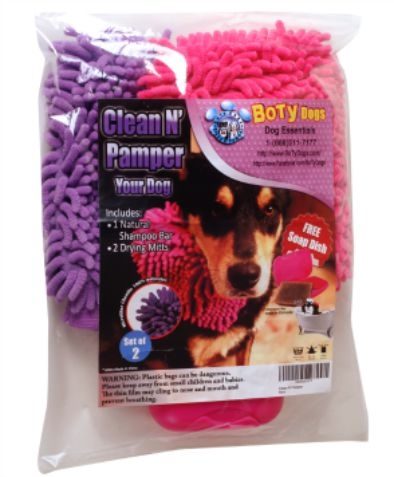 - August 28, 2015 /PressCable/ —
Clean N PamperBoTy Dogs continues with its ever-present commitment to the delivery of top of the line, innovative products for dogs by announcing today the release of their new BoTy Dogs Clean N Pamper Bundle. This remarkable all natural dog-shampooing product offers consumers ease of use coupled with peace of mind for the shampoo and care of "man's best friend." The BoTy Dogs Clean N Pamper Bundle includes one 4 oz. Natural Shampoo Bar Moisturizing Dog Soap, 2 Chenille Dog Drying Mitts, and a free attractive little soap dish that helps the soap last longer.
The all-natural ingredients in the shampoo bar moisturizing dog soap lasts much longer than typical dog shampoos. The bar soap is made from all natural Coconut Oil, Palm Kernel Oil, Ostrich Oil, Eucalyptus, Penny Royal, Agrimony, Citronella, Tansy, and Cedar Wood Oil and is formulated with EFA's Omega 3-6-9.
This stunning new product offers users ease of use since it requires the use of only one hand for shampooing and lathering. Once the lathering is complete, the shampoo is easily and thoroughly rinsed out removing all the unwanted dirt and grime as well. For drying, the use of the innovative Chenille Dog Drying Mitts that absorb more than two times their weight in water makes this task not only simple but also enjoyable for both owner and pup. Placing each mitt on both hands and massaging your dog as you dry their now shiny fur is not only quick but easy and presents with some astonishing results; dryer, shinier fur in less time and without all the once upon time hassle and mess.
In addition, the use of the incredibly smooth chenille mitts alleviates the concern for maneuvering the towel while drying, having the towel fall to the floor, or having the towel create any type of obstruction or distraction to the dog. These Chenille Drying Mitts are every bit as comforting to the owner as they are to the freshly shampooed dog and are incredibly simple to maintain.
The product is sold and readily available for shipment on the Amazon site and is reasonably priced at its introductory price of $19.97. Consumers are finding the breaking new BoTy Dogs Clean N Pamper Bundle to be the wonder product they have long been waiting for focusing greatly on the rapid dismissal of the unpleasant "wet dog" smell and the speedy drying time.
One overly happy consumer says, "First off I must state I have a huge black lab who loves to swim but hates to get a bath. So anyhow I lured him in the bath a few nights ago and picked his heavy tail up into the tub. Once I got him wet I have to say using the bar of soap was 100% easy and more effective than ever using liquid soap on him. He has such a thick coat and with spring arriving he is shedding like mad. But that did not affect how the soap performed or rinsed. The smell was wonderful and has stayed on his coat thus far. It has not caused any irritation for him whatsoever, and the drying mitts worked wonders. If I would have used a towel alone I would have needed a couple. These did not get him completely dry but dry enough that he didn't spatter me with water any more. I love this product and will be repurchasing this in the near future."
With abundant more happy consumers on board and the overall attractive features of this amazing new product, the BoTy Dogs Clean N Pamper Bundle is fast becoming highly visible in the market. This amazing new product is sure to earn its spot on the top ten list of the most innovative and state of the art products for dogs of every size, shape, and breed. "I love that we are able to get these products out to the world via Amazon! The soap was a local discovery when our old dog Snorkel was diagnosed with a skin condition. It was the only soap we could use on her, as it was so soft, gentle, and effective. However, when I discovered Bogey, the "Bo" in BoTy Dogs, who hated to be dried with a towel and absolutely loved being dried with chenille, the mitts were born" says CEO Carla McNeil. She goes on to say, " I'm really excited about this product because it just makes bath time so much easier!"
The most appealing dog products on the market today are all about ease of use, comfort and safety for dogs and certainly the all-new BoTy Dogs Clean N Pamper Bundle fits that bill. Be sure to order your Clean N Pamper Bundle at http://www.amazon.com/dp/B00VG0VK70 today.
Release ID: 89912