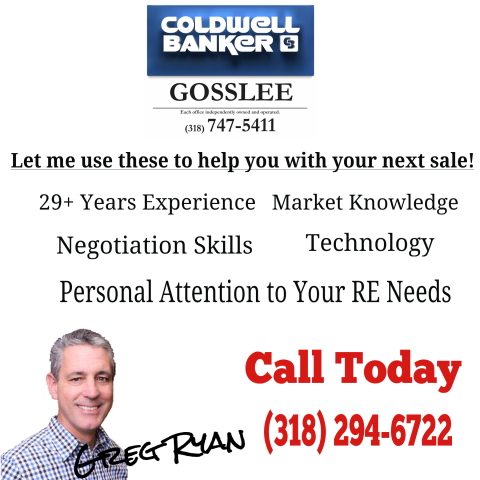 - October 14, 2017 /PressCable/ —
Greg Ryan, a Realtor with Coldwell Banker, is celebrating his 29th Anniversary, which commemorates 29 great, rewarding, challenging, enjoyable, beautiful, fantastic years in business. 29 years is a huge milestone for the Bossier City, LA-based real estate agent business, which has provided personal real estate service to local buyers and sellers since 1988.
Greg Ryan Realtor with Coldwell Banker got his start in 1988 when he saw a need for an honest, straightforward approach to helping clients with their real estate needs. The business was started shortly after the founder graduated college at LSUS and saw the need in this community.
One of the earliest challenges Greg Ryan Realtor with Coldwell Banker faced was finding an effective way to let the people in Bossier City and the surrounding areas know there was a better real estate solution. One of the earliest challenges the business faced was starting out at 25 years old people knew there wasn't much real estate experience.
While every business, of course, faces challenges, some, like Greg Ryan Realtor with Coldwell Banker is fortunate enough to enjoy real successes, wins, and victories too. One such victory came when being low on funds, and with little or no business experience Greg decided to start going directly to where the people were their homes. One big win was when he knocked on 4 FSBO's doors, and over the course of the next two months, he helped 3 out of 4 of those homeowners sell their homes.
Greg Ryan, Associate Broker with Coldwell Banker, was also quoted when discussing another big win. "One of the high points of my career so far was after having some initial success I reinvested a large percentage of my money back into my business and started marketing to people who didn't know me. Another big win was when I ran a promotion in the local Real Estate Book offering a 100% money back guarantee. I was putting my money where my mouth was."
Brad Gosslee owner of Coldwell Banker Gosslee says "We're delighted to be celebrating Greg's 29th Year Anniversary. I believe the secret to getting this far in business today is putting the client first from the very beginning. Greg told his broker back in 1988 if he ever took his eye off the client's needs and looked only at the money he would make, he would get out of real estate.".
Greg Ryan Realtor with Coldwell Banker has big plans for the upcoming year. One of his core objectives is to become the best real estate agent in the Bossier City. This year, the business' primary objective is to combine the experience, market knowledge and negotiating skills with the growing technology to be a better resource to the client.
Greg Ryan Realtor with Coldwell Banker would also like to thank friends, customers and all its partners for their good wishes on this happy occasion.
More information on the business can be found at http://www.GregRyan.com
Release ID: 250301