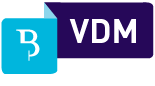 - November 19, 2016 /PressCable/ —
The Association of Healthcare Philanthropy (AHP) held its annual conference this year on October 26th – 29th in Chicago, Illinois. In attendance was Mark Makovec of Borns Group/VDM, Vice President of Development Solutions.
Borns Group is a family owned, South Dakota based company that provides direct mail marketing solutions for businesses. With sales offices in Minneapolis MN, Detroit MI, and Boston MA, the VDM division of the company is focused on direct mail fundraising for non-profit organizations.
As a leading provider of non-profit annual funding solutions for healthcare foundations and development offices, Borns Group/VDM created a lot of interest at the conference with their Major Donor Pipeline Strategies. Of great interest was their video email strategy.
Said Mr. Makovec "Video Email is not new and is used in other industries, but we see that it IS very underused in healthcare philanthropy. This was a great opportunity to spark more interest."
He went on to say that "Attracting donor interest and support is ultra-competitive. Clients need every edge they can get in order to communicate their mission."
Of especially great interest was when Borns GroupVDM teamed up at the conference with seven other complimentary organizations, to gain the attention of attendees and to make the conference more enjoyable. The first ever 2016 AHP International Murder Mystery game was introduced.
Based on the game of Clue, attendees went from booth to booth in order to guess "Who Done It." Some of the comments from attendees included "This made the conference fun" "Something different…enjoyable" and "Another good reason to stop by the exhibit hall."
The Association for Healthcare Philanthropy was established in 1967 and has 5,000 members that represent over 2,200 United States and Canadian healthcare facilities.
Based in Falls Church, Virginia (roughly 10 miles east of Washington, DC), the AHP is an international non-profit organization dedicated to those who encourage charity in the health care establishments of North America.
Borns Group was established by Virgil Borns in 1991. With production facilities in Watertown and Aberdeen, South Dakota, Borns Group has evolved over the years from a local printing company, to a supplier of comprehensive marketing solutions (both online and offline) for businesses across the United States.
For more information, contact:
Mark Makovec Borns Group/VDM 503 Brown Co. 19 N, Aberdeen, SD 57401 Phone: 888 228-0034
Or visit http://VDM.BornsGroup.com
Release ID: 147725