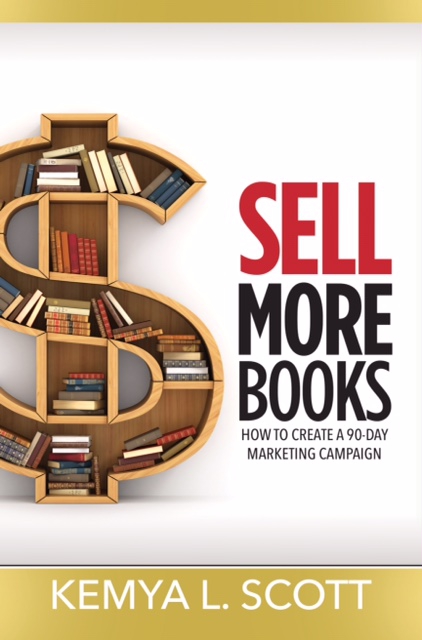 - December 13, 2016 /PressCable/ —
The renowned best-selling author Kemya L. Scott announced the release of her Kindle book "Sell More Books: How To Create a 90 Day Marketing Campaign", a step-by-step guide to help both new and more seasoned authors get mass exposure for their books.
More information is available at http://marketingsparkler.com.
The unique "Sell More Books: How To Create a 90 Day Marketing Campaign" guide was released by the popular best-selling author, marketing strategist and social media manager Kemya L. Scott, who specializes in helping small businesses increase client engagement and brand awareness through simple, customized and results-focused digital media strategies.
The newly released Kindle book provides a step-by-step guide for new or more seasoned authors to create an effective 90 day book marketing campaign combining proven traditional and digital promotional efforts which can deliver the visibility and mass exposure to make the audience aware of their latest release and the name recognition necessary to establish themselves and further their career.
The complete book marketing campaign blueprint shared and detailed on Kemya L. Scott's second book covers from how to amplifying a small advertising budget or leverage social media and blogger outreach strategies to generate reviews and an overall online 'buzz' to developing a professional media kit and mastering the principles of the proven AIME approach, which stands for advertising plus interviews equals mass exposure.
More information on the "Sell More Books: How To Create a 90 Day Marketing Campaign" guide, now available on Amazon, along with details or free consultations on the marketing and social media strategy services delivered by Kemya L. Scott through her renowned Marketing Sparkler agency can be requested at 1-404-484-6671, at website link provided above or at https://amazon.com/Sell-More-Books-Marketing-Campaign-ebook/dp/B01N2OA3I9/.
The author, Kemya L. Scott, explains that "authors pour their heart and soul into their books and invest the most on the production of the book, often not realizing that if the audience can't find it, then they can't buy it. Visibility is essential yet often overlooked. But there are things they can do right now to create their own 90-day promotional campaign and get people interested in buying their work. They've already done the hardest part of writing the book and with this step-by-step guide they can keep that momentum going and reach the audience they've always imagined."
Release ID: 153961