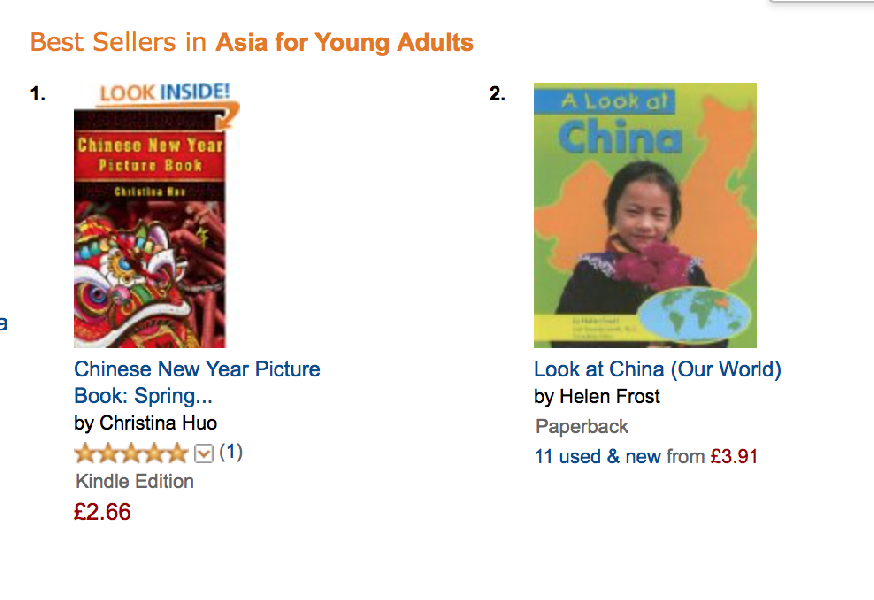 - January 26, 2015 /PressCable/ —
Christina Huo's latest book, Chinese New Year Picture Book for Kids and Adults, has received a Best Seller Badge on Amazon.co.uk. The ebook all about the traditions and history of China's Spring Festival is the Number One Bestseller in the Asia for Young Adults category on Amazon's UK site. 
The kindle book is available for purchase in the UK here: http://www.amazon.co.uk/Chinese-New-Year-Picture-Book-ebook/dp/B00SGWEGF4
When asked about this award Christina Huo said: 
"I am delighted and pleasantly surprised that my book has been given a #1 Best Seller Badge on Amazon.co.uk – this is wonderful news, particularly as I had actually written the book using American spelling as that is the larger Amazon Kindle marketplace. Thank you very much to all my UK readers. Writing this book was really a labour of love. Growing up, Chinese New Year was always the most exciting festival for the whole family. It is really wonderful to be able to share that not only with my own daughter but also through my book. I really enjoyed writing this book and finding all the beautiful pictures. It certainly brought back some amazing childhood memories for me"
The book, is available on all Amazon kindle platforms. The amazon.com version is available here: http://www.amazon.com/Chinese-New-Year-Picture-Book-ebook/dp/B00SGWEGF4
Since the book was published a week ago it has been getting 5 star reviews and the author has been receiving positive feedback from readers. The publication of the Chinese New Year Picture Book was first announced here: http://www.mygtn.tv/story/27901049/chinese-new-year-picture-book-for-kids-published-for-spring-festival-2015-year-of-sheep
The book explains all about Chinese New Year customs and traditions illustrated with beautiful pictures and photographs. The writer describes in detail the days leading up to Chinese New Year's Eve and the days following the Chinese New Year culminating with the Lantern Festival on the final day.
Christina Huo grew up in China and now lives with her husband and daughter in England. What began as a creative way of introducing her daughter to Chinese culture has now become a series of picture books to introduce other children and adults to the many wonders of China.
Release ID: 72972